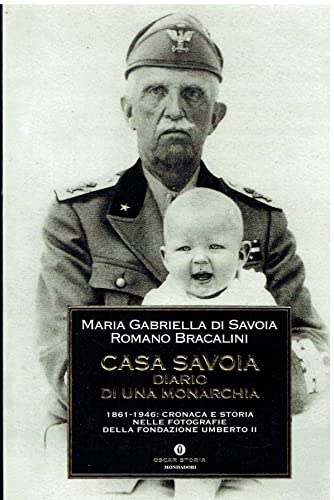 ISBN is
9788804486534 /
8804486538
Publisher:Mondadori, 2001
Edition:AUDIOBOOK_CD
Language:Italian
Prices INCLUDE standard shipping to United States
Shipping prices may be approximate. Please verify cost before checkout.
About the book:
A partire dagli anni Trenta, Umberto II cominciò a raccogliere documentazioni fotografiche connesse alla storia di Casa Savoia, corredando ogni immagine con una didascalia. Durante gli anni dell'esilio riordinò il materiale già esistente e ne acquisì altro con la finalità di documentare la storia ufficiale e privata della dinastia sabauda. Proprio da questo materiale provengono le fotografie di questo volume. Partendo da Vittorio Emanuele II fino ad arrivare a Umberto II, costretto all'esilio in seguito al referendum del 1946, il libro presenta un saggio di Romano Brancalini che descrive le vicende pubbliche e private di questo nobile casato collegandole al movimentato contesto storico che le ha accompagnate.
Search under way...
Search complete.
Click on the price to find out more about a book.