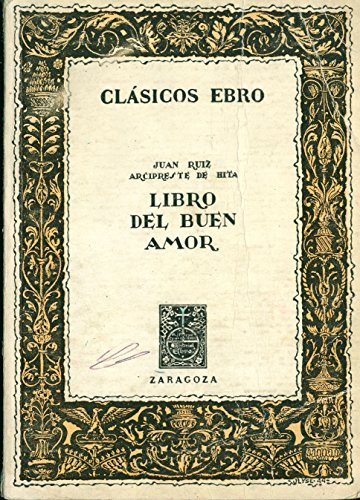 ISBN is
9788470640964 /
8470640968
Publisher:Ebro, 1973
Edition:Softcover
Language:Spanish
Prices INCLUDE standard shipping to United States
Shipping prices may be approximate. Please verify cost before checkout.
About the book:
El Libro de Buen Amor es una obra escrita con animo de moralizar y de divertir, de manera que los locos amadores escarmienten en cabeza ajena. Para ello, adoptando el recurso de hablar en primera persona, el Arcipreste nos cuenta una serie de aventuras amorosas enlazadas por los comentarios y digresiones del propio autor que prestan la suficiente cohesion para mantener la unidad del relato, pero que, por otra parte, dan cierta independencia a cada historia, lo que permitia a los juglares de la epoca llevar en su repertorio trozos del Libro de Buen Amor y recitar o cantar uno u otro aisladamente.(De la edicion de Maria Brey Marino)
Search under way...
Search complete.
Click on the price to find out more about a book.
1.

Fort Walton Beach Fleamarket


via



United States

Softcover, ISBN 8470640968
Publisher: Ebro, 1973
Used - Good, Usually ships in 1-2 business days, Owners name and notes on first page. Approximately 15 pages have pencil notes in the margins.
2.

Fort Walton Beach Fleamarket


via



United States

Softcover, ISBN 8470640968
Publisher: Ebro, 1973
Used - Good, Usually ships in 1-2 business days, 14th Edition , 1979. Owners name and notes on front page. Approximately 15-20 pages have notes in pencil in margins.
3.

SELG Inc.


via



United States

Softcover, ISBN 8470640968
Publisher: Ebro, 1973
Ebro, 1973-01-01. Paperback. Very Good. Softcover. Clean and tight. No markings. Text in Spanish. Fast shipping from NYC!
4.

Selg


via



United States

Softcover, ISBN 8470640968
Publisher: Ebro, 1973
Used - Very Good, Usually ships in 1-2 business days, Softcover. Clean and tight. No markings. Text in Spanish.
5.

SELG Inc. Booksellers


via



United States

Softcover, ISBN 8470640968
Publisher: Ebro 1973-01-01, 1973
Used - Very Good. Softcover. Clean and tight. No markings. Text in Spanish. Fast shipping from NYC!
6.

SELG Inc. Booksellers


via



United States

Softcover, ISBN 8470640968
Publisher: Ebro, 1973
12. ed., ilustrada.. Paperback. Used - Very Good. Softcover. Clean and tight. No markings. Text in Spanish. Ships from NYC. 12. ed., ilustrada.
7.



United States

Softcover, ISBN 8470640968
Publisher: Ebro, 1973

8.



United States

Softcover, ISBN 8470640968
Publisher: Ebro, 1973
Very Good Softcover. Clean and tight. No markings. Text in Spanish. Ships from NYC.
9.

SalvaLibros


via



Spain

Softcover, ISBN 8470640968
Publisher: Ebro, S.L., 1979
Used - Like New. Clásicos Ebro 128 páginas 17 x 12 cm
10.

Bookia


via



Spain

Softcover, ISBN 8470640968
Publisher: Ebro, 1973
Used - Acceptable, Normalmente se envía en el plazo de 1-2 días laborable, Evidencias de uso