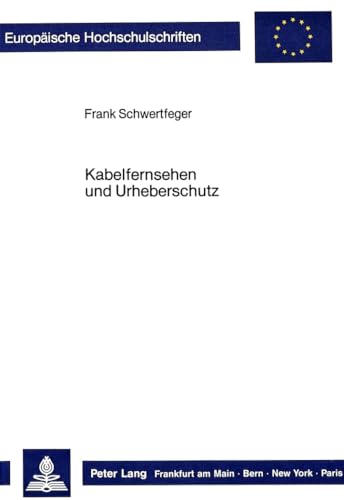 ISBN is
9783820495874 /
3820495878
Publisher:Peter Lang International A..., 1987
Edition:Softcover
Language:German
Prices INCLUDE standard shipping to United States
Shipping prices may be approximate. Please verify cost before checkout.
About the book:
Seit mehr als einem Jahrzehnt bildet die Problematik der Kabelübertragung von Rundfunksendungen einen Schwerpunkt der urheberrechtlichen Diskussion. Im wesentlichen geht es dabei um die Frage, inwieweit eine mittels Kabel bewirkte Weiterleitung von im Rundfunk gesendeten, programmtragenden Signalen, die sich an herkömmliche Rundfunkteilnehmer richtet, eine erneute, urheberrechtlich relevante Verwertung darstellt.
Die durch das sogenannte Kabelfernsehen im Hinblick darauf geschaffenen grösseren Freiheiten im kommunikativen Bereich beleuchten die Notwendigkeit einer baldigen, verbindlichen Lösung. Die vorliegende Arbeit unterzieht die bisherigen Ansätze in Literatur und Rechtsprechung des In- und Auslandes einer kritischen Würdigung und versucht, eine interessengerechte Lösung anzubieten.
Search under way...
Search complete.
Compare book prices from over 100,000 booksellers. Click on the price to find out more about a book.
1.



United States

Softcover, ISBN 3820495878
Publisher: Peter Lang International Academic Publishers, 1987
Usually ships in 1 to 3 months. Shipped from Amazon. FREE Two-Day Shipping with Amazon Prime. Eligible for FREE Super Saver Shipping.
2.

Peter Lang Publishing Group


via



Switzerland

Softcover, ISBN 3820495878
Publisher: Frankfurt/M., Bern, New York, 1987. XVII, 217, 1987
Seit mehr als einem Jahrzehnt bildet die Problematik der Kabelübertragung von Rundfunksendungen einen Schwerpunkt der urheberrechtlichen Diskussion. Im wesentlichen geht es dabei um die Frage, inwieweit eine mittels Kabel bewirkte Weiterleitung von im Rundfunk gesendeten, programmtragenden Signalen, die sich an herkömmliche Rundfunkteilnehmer richtet, eine erneute, urheberrechtlich relevante Verwertung darstellt. Die durch das sogenannte Kabelfernsehen im Hinblick darauf geschaffenen

...

3.



Canada

Softcover, ISBN 3820495878
Publisher: Peter Lang GmbH, Internationaler Verlag der Wissenschaften, 1987
International shipping, Temporarily out of stock. Order now and we'll deliver when available. We'll e-mail you with an estimated delivery date as soon as we have more information. Your credit card will not be charged until we ship the item.. Shipped from Amazon.
4.

Peter Lang Publishing


via



Switzerland

Softcover, ISBN 3820495878
Publisher: Peter Lang Gmbh, Internationaler Verlag Der W, 1987
Expédition sous 1 à 2 jours ouvrés
5.

Peter Lang Publishing


via



Switzerland

Softcover, ISBN 3820495878
Publisher: Lang, Peter Frankfurt, 1987
Versandfertig in 1 - 2 Werktagen