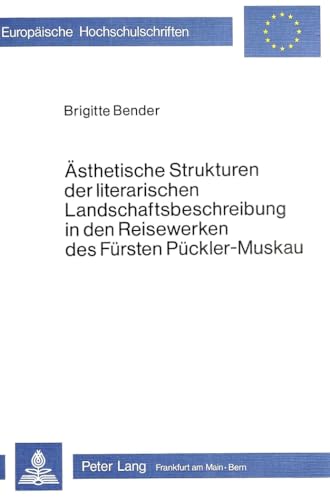 ISBN is
9783820470901 /
3820470905
Publisher:Peter Lang International A..., 1982
Edition:Softcover
Language:German
Prices INCLUDE standard shipping to United States
Shipping prices may be approximate. Please verify cost before checkout.
About the book:
Fürst Pückler war ein vielgelesener und doch in seinen wesentlichen Anliegen verkannter Schriftsteller, der sich als Autor von Reiseberichten sowie aufgrund seines Standes und seiner eigenwilligen Persönlichkeit vielfältigen Vorurteilen ausgesetzt sah. Die inhaltliche Untersuchung des Pücklerschen Naturbegriffs deckt die Beziehung zu verschiedenen Traditionen auf und zeigt die Wechselwirkung, in der literarische Landschaftsbeschreibung, Landschaftsmalerei und Architektur, Städteplanung und Landschaftsgärtnerei zueinander stehen.
Search under way...
Search complete.
Click on the price to find out more about a book.
1.

Peter Lang Publishing Group


via



Switzerland

Softcover, ISBN 3820470905
Publisher: Frankfurt/M., Bern, 1982. 156 S., 1982
Fürst Pückler war ein vielgelesener und doch in seinen wesentlichen Anliegen verkannter Schriftsteller, der sich als Autor von Reiseberichten sowie aufgrund seines Standes und seiner eigenwilligen Persönlichkeit vielfältigen Vorurteilen ausgesetzt sah. Die inhaltliche Untersuchung des Pücklerschen Naturbegriffs deckt die Beziehung zu verschiedenen Traditionen auf und zeigt die Wechselwirkung, in der literarische Landschaftsbeschreibung, Landschaftsmalerei und Architektur, Städteplanung und

...

2.



United States

Softcover, ISBN 3820470905
Publisher: Peter Lang International Academic Publishers, 1982
Usually ships in 1 to 4 weeks. Shipped from Amazon. FREE Two-Day Shipping with Amazon Prime. Eligible for FREE Super Saver Shipping.
3.



Canada

Softcover, ISBN 3820470905
Publisher: Peter Lang International Academic Publishers, 1982
International shipping, Temporarily out of stock. Order now and we'll deliver when available. We'll e-mail you with an estimated delivery date as soon as we have more information. Your credit card will not be charged until we ship the item.. Shipped from Amazon.
4.

Peter Lang Publishing


via



Switzerland

Softcover, ISBN 3820470905
Publisher: Peter Lang, 1982
Expédition sous 1 à 2 jours ouvrés
5.

Peter Lang Publishing


via



Switzerland

Softcover, ISBN 3820470905
Publisher: Lang, Peter Frankfurt, 1982
Versandfertig in 1 - 2 Werktagen