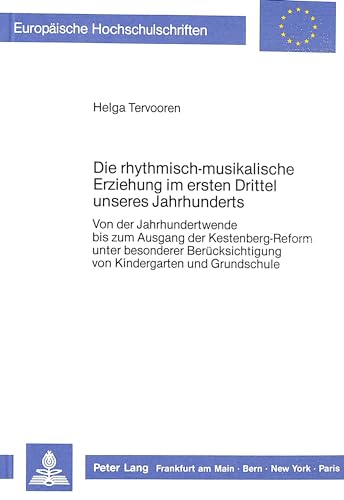 ISBN is
9783820409086 /
3820409084
Publisher:Peter Lang International A..., 1987
Edition:Softcover
Language:German
Prices INCLUDE standard shipping to United States
Shipping prices may be approximate. Please verify cost before checkout.
About the book:
Zentrales Anliegen der Arbeit ist es, Entstehung und Entwicklung der rhythmisch-musikalischen Erziehung aus ihrem Ursprung bei E. Jaques-Dalcroze zwischen 1900 und 1932/33 aus geeigneten Quellen und in einem Zusammenhang von zeitgeschichtlichen, künstlerisch-kulturellen und reformpädagogischen Entwicklungen zu erschliessen und für unsere Zeit zugänglich zu machen. Ein besonderer Hinweis gilt der erziehenden und bildenden Bedeutung von Musik, Rhythmus, Sprache, Bewegung für ein ganzheitliches Erleben und Erfahren musikalischer Phänomene wie für die Entfaltung einer künstlerisch-schöpferischen Persönlichkeit.
Search under way...
Search complete.
Click on the price to find out more about a book.
1.

Peter Lang Publishing Group


via



Switzerland

Softcover, ISBN 3820409084
Publisher: Frankfurt/M., Bern, New York, 1987. IV, 666 S., 1987
Zentrales Anliegen der Arbeit ist es, Entstehung und Entwicklung der rhythmisch-musikalischen Erziehung aus ihrem Ursprung bei E. Jaques-Dalcroze zwischen 1900 und 1932/33 aus geeigneten Quellen und in einem Zusammenhang von zeitgeschichtlichen, künstlerisch-kulturellen und reformpädagogischen Entwicklungen zu erschliessen und für unsere Zeit zugänglich zu machen. Ein besonderer Hinweis gilt der erziehenden und bildenden Bedeutung von Musik, Rhythmus, Sprache, Bewegung für ein ganzheitliches

...

2.



United States

Softcover, ISBN 3820409084
Publisher: Peter Lang International Academic Publishers, 1987
Usually ships in 1 to 4 weeks. Shipped from Amazon. FREE Two-Day Shipping with Amazon Prime. Eligible for FREE Super Saver Shipping.
3.

Peter Lang Publishing


via



Switzerland

Softcover, ISBN 3820409084
Publisher: Peter Lang, 1987
Expédition sous 1 à 2 jours ouvrés
4.



Canada

Softcover, ISBN 3820409084
Publisher: Peter Lang International Academic Publishers, 1987
International shipping, Temporarily out of stock. Order now and we'll deliver when available. We'll e-mail you with an estimated delivery date as soon as we have more information. Your credit card will not be charged until we ship the item.. Shipped from Amazon.
5.

Peter Lang Publishing


via



Switzerland

Softcover, ISBN 3820409084
Publisher: Lang, Peter Frankfurt, 1987
Versandfertig in 1 - 2 Werktagen