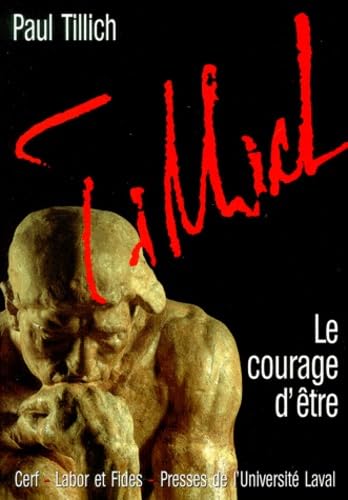 ISBN is
9782204061520 /
2204061522
Publisher:Presses de l'Universite Laval, 1998
Edition:Softcover
Language:French
Prices INCLUDE standard shipping to United States
Shipping prices may be approximate. Please verify cost before checkout.
About the book:
L'enjeu principal du Courage d'être, sauver l'être humain du désespoir, explique la portée considérable de ce livre. L'expérience de guérison et de libération qui en constitue la ligne directrice ne se laisse cependant enfermer dans aucune description exhaustive. Le courage de la foi ou le courage comme acceptation paradoxale de soi ne désigne rien d'autre qu'une reformulation moderne du principe paulino-luthérien de la justification. Accepter d'être accepté en dépit du fait que l'on se sente inacceptable signifie accepter que l'amour dont Dieu nous aime soit plus grand et plus profond que notre propre refus de nous-même. Être accepté signifie alors cesser d'être superflu, cesser d'« être de trop » (Sartre), être voulu, aimé, justifié par ce qui est la source et le fondement ultime du courage d'être : le Dieu au-dessus de Dieu. Cette expression ne vise nullement à faire de Dieu une abstraction, mais à éviter le piège de l'objectivation sous la forme du théisme idéologique qui présente Dieu comme un être parmi les êtres. Dans l'expérience du courage qui est acceptation paradoxale de soi, Dieu prend la figure de l'inconditionné qui fait irruption dans notre histoire pour nous libérer, nous guérir, nous remettre debout et en marche avec tous ceux et celles qui sont portés par l'espérance d'un avenir humainement viable.
Search under way...
Search complete.
Click on the price to find out more about a book.
1.

Gray Fox Canada


via



France

Softcover, ISBN 2204061522
Publisher: Presses de l'Universite Laval, 1998
Used - Good, Usually ships within 1 - 2 business days, Multilingual customer service. Satisfaction guaranteed! Books in French. Fast delivery. Service client multilingues. Satisfaction garantie! Livres en français. Livraison rapide.
2.

Lyonbienetre


via



France

Softcover, ISBN 2204061522
Publisher: Le Cerf - Labor et Fides - Presses de l'Université de Laval, 1999
Used - Like New, Expédition sous 1 à 2 jours ouvrés, 100% NEUF ENVOI 24/48H SUIVI OFFERT
3.

Pluton019


via



France

Softcover, ISBN 2204061522
Publisher: Le Cerf - Labor et Fides - Presses de l'Université de Laval, 1999
Used - Very Good, Expédition sous 1 à 2 jours ouvrés, TBE. Livraison en 10 jours. Merci
4.

Gray Fox Canada


via



France

Softcover, ISBN 2204061522
Publisher: Presses de l'Universite Laval, 1998
Used - Like New, Usually ships within 1 - 2 business days, Multilingual customer service. Satisfaction guaranteed! Books in French. Fast delivery. Service client multilingues. Satisfaction garantie! Livres en français. Livraison rapide.
5.

Prestivo3


via



France

Softcover, ISBN 2204061522
Publisher: Presses de l'Universite Laval, 1998
Used - Like New, Usually ships within 1 - 2 business days, Pro Seller. French language book. Average delivery time : 15 days to North America, 21 days to South America. Vendeur pro. Livres en français. Délai de livraison : 15 jours pour Amérique du Nord, 21 jours pour Amérique du Sud, 14 jours pour Europe, 21 jours pour Asie/Oceanie
6.

Prestivo3


via



France

Softcover, ISBN 2204061522
Publisher: Presses de l'Universite Laval, 1998
Used - Like New, Usually ships within 1 - 2 business days, Pro Seller. French language book. Average delivery time : 15 days to North America, 21 days to South America. Vendeur pro. Livres en français. Délai de livraison : 15 jours pour Amérique du Nord, 21 jours pour Amérique du Sud, 14 jours pour Europe, 21 jours pour Asie/Oceanie