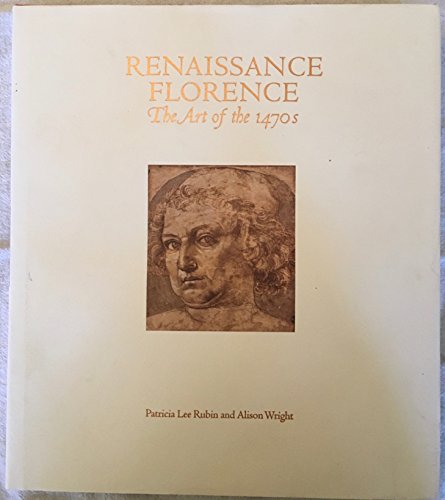 ISBN is
9781857092660 /
185709266X
Publisher:Natl Gallery Pubns Ltd, 1999
Edition:Hardcover
Language:English
Prices INCLUDE standard shipping to United States
Shipping prices may be approximate. Please verify cost before checkout.
About the book:
This lovely book details the activities of the leading artists of Florence during the 1470s, when Lorenzo de`Medici and his allies were cultivating the visual arts as an important means of asserting influence. The book discusses the art of Andrea Verrocchio, Antonio and Piero Pollaiuolo, Sandro Botticelli, and Filippino Lippi; the competition and collaboration among them; and the religious, political, and social contexts of their work.
Search under way...
Search complete.
Compare book prices from over 100,000 booksellers. Click on the price to find out more about a book.
1.

Bwbuk Ltd


via



United Kingdom

Hardcover, ISBN 185709266X
Publisher: Natl Gallery Pubns Ltd, 1999
Used - Very Good, Usually ships within 1 - 2 business days, Ships from the UK. Former Library book. Great condition for a used book! Minimal wear. 100% Money Back Guarantee. Your purchase also supports literacy charities.
2.

Better World Books Ltd


via



United Kingdom

Hardcover, ISBN 185709266X
Publisher: Natl Gallery Pubns Ltd, 1999
Used - Very Good. Ships from the UK. Former Library book. Great condition for a used book! Minimal wear.
3.

Amoorhouseuh


via



United Kingdom

Hardcover, ISBN 185709266X
Publisher: Yale University Press, 1999
Used - Good, Usually dispatched within 1-2 business days
4.

Betterworldbooksltd


via



United Kingdom

Hardcover, ISBN 185709266X
Publisher: Yale University Press, 1999
Used - Very Good, Usually dispatched within 1-2 business days, Ships from the UK. Former Library books. Great condition for a used book! Minimal wear. 100% Money Back Guarantee. Your purchase also supports literacy charities.
5.

Amoorhouseuh


via



United Kingdom

Hardcover, ISBN 185709266X
Publisher: National Gallery Company Ltd, 1999
Used - Good, Expédition sous 1 à 2 jours ouvrés
6.

Better World Books UK


via



United Kingdom

Hardcover, ISBN 185709266X
Publisher: National Gallery Company Ltd, 1999
Used - Very Good. Ships from the UK. Former Library book. Great condition for a used book! Minimal wear. Your purchase also supports literacy charities.
7.

Better World Books Ltd


via



United Kingdom

Hardcover, ISBN 185709266X
Publisher: Natl Gallery Pubns Ltd, 1999
Natl Gallery Pubns Ltd. Used - Very Good. Ships from the UK. Former Library book. Great condition for a used book! Minimal wear.
8.

Allintune


via



United Kingdom

Hardcover, ISBN 185709266X
Publisher: Yale University Press, 1999
Used - Very Good, International shipping, Usually dispatched within 24 hours, Ex university library. Good clean copy. Protected cover. Shipped from Amazon.
9.

Amoorhouseuh


via



United Kingdom

Hardcover, ISBN 185709266X
Publisher: National Gallery Company Ltd, 1999
Used - Good, Normalmente se envía en el plazo de 1-2 días laborable
10.

Amoorhouseuh


via



United Kingdom

Hardcover, ISBN 185709266X
Publisher: Natl Gallery Pubns Ltd, 1999
Used - Good, Generalmente spedito in 1-2 giorni lavorativi