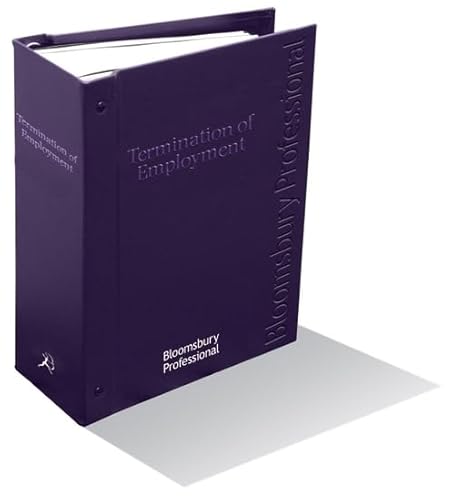 ISBN is
9781845928339 /
1845928334
Prices INCLUDE standard shipping to United States
Shipping prices may be approximate. Please verify cost before checkout.
About the book:
This title deals with all aspects of this difficult subject are dealt with, providing the reader with a framework for maintaining best practice when dealing with employment termination issues. It provides, in one convenient volume, all the information you will need to deal successfully with issues and situations relating to the termination of a contract or the removal of an employee The ideal companion for any employment law adviser or human resource professional. Updates are charged on publication.
Search under way...
Search complete.
Click on the price to find out more about a book.
1.

Artsncrafts~Books


via



United States

Hardcover, ISBN 1845928334
Publisher: Tottel Publishing, 2006
Usually dispatched within 2-3 business days
2.

Brilliant Warehouse


via



United Kingdom

Hardcover, ISBN 1845928334
Publisher: Tottel Publishing, 2006
Usually dispatched within 1-3 weeks, Brand new. Great customer service and fast shipping.
3.

Total Books


via



United States

Hardcover, ISBN 1845928334
Publisher: Tottel Publishing, 2006
Usually ships in 2-3 business days
4.

Brilanti Books


via



United States

Hardcover, ISBN 1845928334
Publisher: Tottel Publishing, 2006
Usually ships in 2-3 business days
5.

Antoine Online


via



United Kingdom

Hardcover, ISBN 1845928334
Publisher: Tottel Publishing, 2006
International shipping, Expédition sous 2 à 3 jours ouvrés