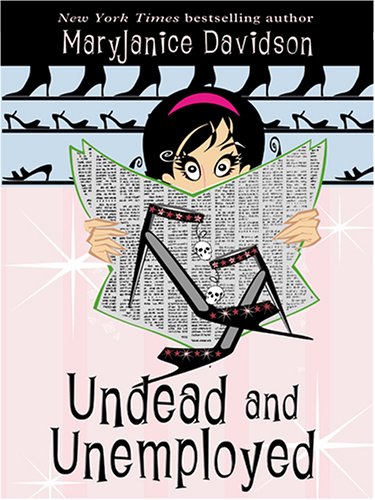 ISBN is
9781597221931 /
1597221937
Publisher:Wheeler Publishing, 2006
Edition:Softcover
Language:English
Prices INCLUDE standard shipping to United States
Shipping prices may be approximate. Please verify cost before checkout.
About the book:
Betsy Taylor, Queen of the undead, has snagged a dream job in a shoe store (just like a normal person!). But when vampires start getting killed off, Betsy enlists the help of the sexy vampire Sinclair. Now she's really treading dangerous ground-but this time in brand-new high heels.
Search under way...
Search complete.
Click on the price to find out more about a book.
1.

Better World Books


via



United States

Softcover, ISBN 1597221937
Publisher: Wheeler Publishing, 2006
Good. US Edition. Former Library book. Shows some signs of wear, and may have some markings on the inside. 100% Money Back Guarantee. Shipped to over one million happy customers. Your purchase benefits world literacy!.
2.

Better World Books


via



United States

Softcover, ISBN 1597221937
Publisher: Wheeler Publishing, 2006
Used - Good. Former Library book. Shows some signs of wear, and may have some markings on the inside.
3.

betterworldbooks


via



United States

Softcover, ISBN 1597221937
Publisher: Wheeler Publishing, 2006
Good. Former Library book. 100% Money Back Guarantee. Shipped to over one million happy ...
4.

coasbooks


via



United States

Softcover, ISBN 1597221937
Publisher: Wheeler Publishing, 2006
Good. Ex-Library book - will contain library markings. Possible defects such as light shelving wear may exist. May have minor creasing, writing, stickers. COAS Books, A Bookstore for Everyone. Ships Within 24 Hours - Satisfaction Guaranteed!. Ex-Library book - will contain library markings. Possible defects such as light s...
5.

alibris_books_02


via



United States

Softcover, ISBN 1597221937
Publisher: Wheeler Publishing, 2006
Good. Softcover Ex-library. Good Pages may have contain writing, highlighting or notes. ...
6.

alibris_books_08


via



United States

Softcover, ISBN 1597221937
Publisher: Wheeler Publishing, 2006
Good. Softcover Ex-library. Good Pages may have contain writing, highlighting or notes. ...
7.



United States

Softcover, ISBN 1597221937
Publisher: Wheeler Publishing, 2006
used
8.

Better World Books


via



United States

Softcover, ISBN 1597221937
Publisher: Wheeler Publishing, 2006
Wheeler Publishing. Used - Good. Former Library book. Shows some signs of wear, and may have some markings on the inside.
9.

Better World Books


via



United States

Softcover, ISBN 1597221937
Publisher: Wheeler Publishing, 2006
Wheeler Publishing. Used - Good. Former Library book. Shows some signs of wear, and may have some markings on the inside.
10.



United States

Softcover, ISBN 1597221937
Publisher: Wheeler Publishing, 2006