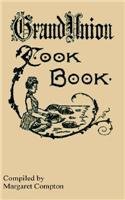 ISBN is
9781589636088 /
1589636082
Publisher:Creative Cookbooks, 2001
Edition:Softcover
Language:English
Prices INCLUDE standard shipping to United States
Shipping prices may be approximate. Please verify cost before checkout.
About the book:
"The recipes in this book have been obtained from many sources. Some are from manuscripts which have been handed down for at least four generations; others are adaptations from foreign works, the original and modified directions having been thoroughly tested by the editor in her own kitchen. There are certain standard recipes which have become famous for the excellent reason that they are the best . . . "
– Margaret Compton, 1902
Search under way...
Search complete.
Click on the price to find out more about a book.