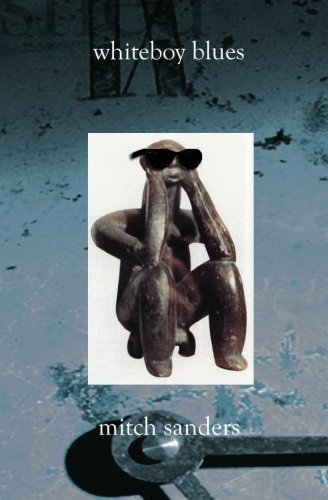 ISBN is
9781588987884 /
1588987884
Publisher:BookSurge Publishing, 2002
Edition:Softcover
Language:English
Prices INCLUDE standard shipping to United States
Shipping prices may be approximate. Please verify cost before checkout.
About the book:
Whiteboy Blues is a page-burner that runs the gamut of emotions as a study of the social dynamics of a suburban white child growing up in Peoria, Illinois during the 1970s.
Search under way...
Search complete.
Click on the price to find out more about a book.
1.

The Book Rescue


via



United States

Softcover, ISBN 1588987884
Publisher: BookSurge Publishing, 2002
Used - Very Good, Usually ships in 1-2 business days, Pages are clean and unmarked. Binding is strong.
2.

Hope Fire


via



United Kingdom

Softcover, ISBN 1588987884
Publisher: BookSurge Publishing, 2002
Used - Good, Usually ships within 1 - 2 business days
3.

Vanderbilt Ca


via



United States

Softcover, ISBN 1588987884
Publisher: BookSurge Publishing, 2002
Used - Good, Usually ships within 1 - 2 business days, Book is in Standard Used-Good Condition. Ships from New York. Please allow 5-15 business days. Also note: This book may or may not contain highlighting, writing, or other various markings and/or show typical wear. Friendly customer service.
4.

Vanderbilt Ca


via



United States

Softcover, ISBN 1588987884
Publisher: BookSurge Publishing, 2002
Used - Very Good, Usually ships within 1 - 2 business days, Book is in Very Good condition. Ships from New York. Please allow 5-15 business days. Friendly customer service.
5.

Reading Corner Canada


via



United States

Softcover, ISBN 1588987884
Publisher: BookSurge Publishing, 2002
Used - Very Good, Usually ships within 1 - 2 business days, Very good condition.
6.

Calibris


via



United States

Softcover, ISBN 1588987884
Publisher: BookSurge Publishing, 2002
Used - Very Good, Usually ships within 1 - 2 business days, Ships from the USA. Please allow 10-15 business days for delivery. Excellent customer service!
7.

Rbmbooks


via



United States

Softcover, ISBN 1588987884
Publisher: BookSurge Publishing, 2002
Used - Very Good, Usually dispatched within 1-2 business days, Ships from USA. Delivered in 10-12 business days. Money back guarantee!
8.

Elitedigital Uk


via



United States

Softcover, ISBN 1588987884
Publisher: BookSurge Publishing, 2002
Used - Very Good, Usually dispatched within 1-2 business days, Book is in Very Good condition. Sent Airmail from New York. Please allow 7-15 Business days for delivery. Excellent customer service.
9.

Elitedigital Fr


via



United States

Softcover, ISBN 1588987884
Publisher: BookSurge Publishing, 2002
Used - Very Good, Expédition sous 1 à 2 jours ouvrés, Difficile à trouver! Envoyé par avion de New York. 7 à 15 jours ouvrables avant réception. Service après-vente irréprochable.
10.

Tousbouquins


via



United States

Softcover, ISBN 1588987884
Publisher: BookSurge Publishing, 2002
Used - Very Good, Expédition sous 1 à 2 jours ouvrés, Expédié par avion depuis les USA; prévoir une livraison entre 10 à 15 jours ouvrables. Satisfait ou remboursé