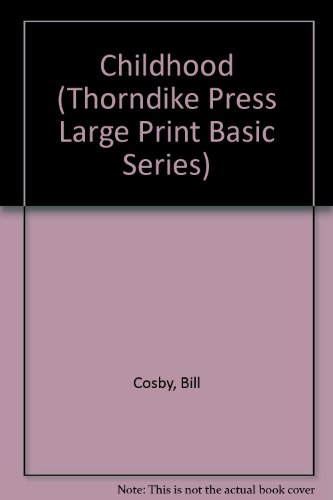 ISBN is
9781560543718 /
156054371X
Publisher:Thorndike Pr, 1992
Edition:Hardcover
Language:English
Prices INCLUDE standard shipping to United States
Shipping prices may be approximate. Please verify cost before checkout.
About the book:
Sharing his most humorous and poignant childhood stories to date, comedian Bill Cosby discusses such matters as his tenure as a school crossing guard and his quest for the elusive Spanish Fly. (Humor).
Search under way...
Search complete.
Compare book prices from over 100,000 booksellers. Click on the price to find out more about a book.
1.

silverarchbooksstore


via



United States

Softcover, ISBN 156054371X
Publisher: Thorndike Pr, 1992
Good. Childhood (Thorndike Press Large Print Basic Series) (ExLib/NoDust)
2.

Books Squared


via



United States

Hardcover, ISBN 156054371X
Publisher: Thorndike Pr, 1992
Used - Good, Usually ships in 1-2 business days, Ex-Library Book - will contain Library Markings. Dust Cover Missing. Only lightly used. Book has minimal wear to cover and binding. A few pages may have small creases and minimal underlining. Book selection as BIG as Texas.
3.

Books Squared


via



United States

Hardcover, ISBN 156054371X
Publisher: Thorndike Pr, 1992
Used - Good. Ex-Library Book - will contain Library Markings. Dust Cover Missing. Only lightly used. Book has minimal wear to cover and binding. A few pages may have small creases and minimal underlining.
4.

The Yard Sale Store


via



United States

Hardcover, ISBN 156054371X
Publisher: Thorndike Press, Farmington Hills, Michigan, U.S.A., 1992
Used - Good. Large print library withdrawal in the reinforced covers. Scuff and shelf wear to the covers. Corners a bit bumped. Stamped at the page edge with a card pocket page on the inside. A still sturdy useful edition. (AMERICAN WIT HUMOR SOCIAL LIFE)
5.

The Yard Sale Store


via



United States

Hardcover, ISBN 156054371X
Publisher: Thorndike Press, Farmington Hills, Michigan, U.S.A., 1992
Large type / large print.. Hardcover. Used - Good. Large print library withdrawal in the reinforced covers. Scuff and shelf wear to the covers. Corners a bit bumped. Stamped at the page edge with a card pocket page on the inside. A still sturdy useful edition. Large type / large print.
6.

Yardsalebookshop


via



United States

Hardcover, ISBN 156054371X
Publisher: Thorndike Pr, 1992
Used - Good, Usually ships in 1-2 business days, Publisher: Thorndike Press Date of Publication: 1992 Binding: Hardcover Condition: Good Description: 156054371x Large print library withdrawal in the reinforced covers. Scuff and shelf wear to the covers. Corners a bit bumped. Stamped at the page edge with a card pocket page on the inside. A still sturdy useful edition.
7.

alibris_movies


via



United States

Hardcover, ISBN 156054371X
Publisher: Thorndike Pr, 1992
Good. Hardcover Good Large print library withdrawal in the reinforced covers. Scuff and ...
8.

books_squared


via



United States

Hardcover, ISBN 156054371X
Publisher: Thorndike Pr, 1992
Good. Ex-Library Book - will contain Library Markings. Dust Cover Missing. Only lightly ...
9.

Quality Bargain Mall


via



United States

Hardcover, ISBN 156054371X
Publisher: Thorndike Pr, 1992
Used - Acceptable, Usually ships in 24 hours, Eligible for online's FREE Super Saver/Prime Shipping, 24/7 Customer Service, and package tracking. 100% Satisfaction Guarantee.. Shipped from Amazon. FREE Two-Day Shipping with Amazon Prime. Eligible for FREE Super Saver Shipping.
10.



United States

Hardcover, ISBN 156054371X
Publisher: Thorndike Pr, 1992