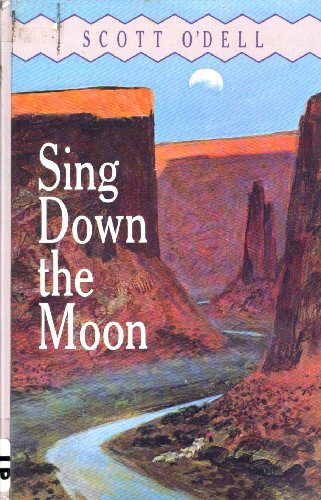 ISBN is
9781557361424 /
1557361428
Publisher:Fireside Books, 1989
Edition:Hardcover
Language:English
Prices INCLUDE standard shipping to United States
Shipping prices may be approximate. Please verify cost before checkout.
About the book:
A young Navajo girl recounts the events of 1864 when her tribe was forced to march to Fort Sumner as prisoners of the white soldiers.
Search under way...
Search complete.
Click on the price to find out more about a book.
1.

freestatebooksstore


via



United States

Softcover, ISBN 1557361428
Publisher: Fireside Books, 1989
Good. Sing Down the Moon (ExLib)
2.

Atlanta Book Company


via



United States

Hardcover, ISBN 1557361428
Publisher: Fireside Books, 1989
Used - Good. Ex-Library Book - will contain Library Markings. Book shows minor use. Cover and Binding have minimal wear and the pages have only minimal creases.
3.

Betterworldbooks


via



United States

Hardcover, ISBN 1557361428
Publisher: Fireside Books, 1989
Used - Good, Usually ships in 1-2 business days, Former Library book. Shows some signs of wear, and may have some markings on the inside. 100% Money Back Guarantee. Shipped to over one million happy customers. Your purchase benefits world literacy!
4.

Books Squared


via



United States

Hardcover, ISBN 1557361428
Publisher: Fireside Books, 1989
Used - Good, Usually ships in 1-2 business days, Ex-Library Book - will contain Library Markings. Only lightly used. Book has minimal wear to cover and binding. A few pages may have small creases and minimal underlining. Book selection as BIG as Texas.
5.

Ellenwood Media


via



United States

Hardcover, ISBN 1557361428
Publisher: Fireside Books, 1989
Used - Acceptable. 1557361428 (3-5) Note: Book is a former library book and has library stickers and/or markings on or inside the front or back cover and/or spine and may not have a dust jacket if hardcover.former library or school books may also be re-bound or library bound, so could be hardcover rather than paperback, even if the ISBN is for the paperback. Old library books from the 1980s or earlier may also be musty or have an odor. Please ask before buying if you need to know more about

...

6.

Books Squared


via



United States

Hardcover, ISBN 1557361428
Publisher: Fireside Books, 1989
Used - Good. Ex-Library Book - will contain Library Markings. Only lightly used. Book has minimal wear to cover and binding. A few pages may have small creases and minimal underlining.
7.

Yankee Clipper Books


via



United States

Hardcover, ISBN 1557361428
Publisher: Fireside Books, 1989
Used - Good. Book shows a small amount of wear to cover and binding. Some pages show signs of use.
8.

Ellenwood Media


via



United States

Hardcover, ISBN 1557361428
Publisher: Fireside Books, 1989
Acceptable. Sing Down the Moon (Large Print) Scott O'Dell (Hardcover)
9.



United States

Hardcover, ISBN 1557361428
Publisher: Fireside Books, 1989

10.



United States

Hardcover, ISBN 1557361428
Publisher: Fireside Books, 1989
used