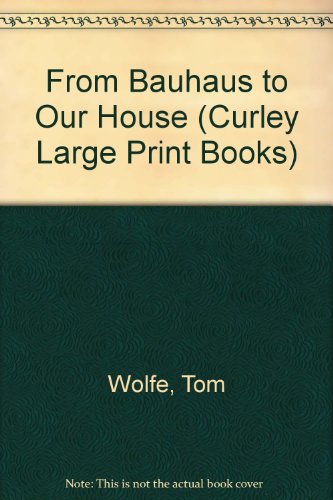 ISBN is
9781555043797 /
1555043798
Publisher:John Curley & Assoc, 1988
Edition:Hardcover
Language:English
Prices INCLUDE standard shipping to United States
Shipping prices may be approximate. Please verify cost before checkout.
About the book:
In this book Tom Wolfe traces the roots of the modern architectural movement and suggests ideas for its future. He asks why we have not got the architecture we deserve, and launches an attack on the hideous follies of modern architecture.
Search under way...
Search complete.
Click on the price to find out more about a book.
1.

Hippo Books


via



United States

Hardcover, ISBN 1555043798
Publisher: John Curley & Assoc, 1988
Used - Poor. Acceptable: Possible ex-library copy with the library's markings. May have moderate notes or highlighting. Will no longer have its dust jacket if applicable and accessories may no longer be included.
2.

Hippo Books


via



United States

Hardcover, ISBN 1555043798
Publisher: John Curley & Assoc, 1988
Used - Acceptable, Usually ships in 1-2 business days, Used may contain ex-library markings, notes or highlighting, may no longer have its dust jacket if applicable
3.

Internationalbooks


via



United States

Hardcover, ISBN 1555043798
Publisher: John Curley & Assoc, 1988
Used - Good, Usually ships in 1-2 business days, Good copy with moderate cover and page wear from being handled and read. Accessories or dust jacket may be missing. Could be an ex-library copy that will have all the stickers and or marking of the library. Some textual or margin notes possible, and or contain highlighting.
4.

Hippo Books


via



United States

Hardcover, ISBN 1555043798
Publisher: John Curley & Assoc, 1988
Large type / large print.. Hardcover. Used - Fair Fair . Good copy for reading, may have heavy page wear with writing textual notes highlighting or be an heavily used ex library copy with library markings, stickers or stamps. Dust jacket or accessories may not be included. Large type / large print.
5.

thriftbooksstore


via



United States

Softcover, ISBN 1555043798
Publisher: John Curley & Assoc, 1988
Good. From Bauhaus to Our House
6.

owl-books


via



United States

Hardcover, ISBN 1555043798
Publisher: John Curley & Assoc, 1988
Acceptable. Buy from the best: 4,000,000 items shipped to delighted customers. We have 1,000,0...
7.



United States

Hardcover, ISBN 1555043798
Publisher: John Curley & Assoc, 1988

8.

FastMedia


via



United States

Hardcover, ISBN 1555043798
Publisher: John Curley & Assoc, 1988
Buy with confidence. Excellent Customer Service & Return policy. Fair
9.

Greatbuy Books Usa


via



United States

Hardcover, ISBN 1555043798
Publisher: John Curley & Assoc, 1988
Used - Acceptable, Usually ships within 1 - 2 business days, Visibly worn from excessive use but readable copy. May be an ex-library copy and may not include CD and/or Accessories.
10.

Owlsmart Usa


via



United States

Hardcover, ISBN 1555043798
Publisher: Chivers North America, 1988
Used - Good, Usually dispatched within 1-2 business days, Good clean copy with no missing pages might be an ex library copy; may contain marginal notes and or highlighting