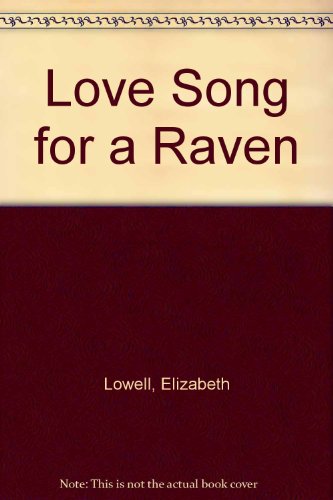 ISBN is
9781551663111 /
1551663112
Publisher:Mira, 1996
Edition:Softcover
Language:English
Prices INCLUDE standard shipping to United States
Shipping prices may be approximate. Please verify cost before checkout.
About the book:
A storm brought them together
Without warning, a ferocious storm in the Queen Charlotte Islands plunged Janna Morgan into the frigid sea. But before she could sink into the depths of the choppy waters, an arm reached out through the darkness, pulling Janna to safety.
Her savior was Carlson Raven, and he was as untamed and enigmatic as the sea he loved. Stranded together in a deserted paradise, Raven was instantly aware of his intense yearning for the courageous woman he'd rescued. And he was powerless to resist her beauty. But could Raven really believe that the look in Janna's eyes was love, and not merely gratitude?
Search under way...
Search complete.
Click on the price to find out more about a book.
1.

free_state_books


via



United States

Softcover, ISBN 1551663112
Publisher: Mira, 1996
Good. Book shows minor use. Cover and Binding have minimal wear, and the pages have only...
2.

plmbooksandsuch


via



United States

Softcover, ISBN 1551663112
Publisher: Mira, 1996
Very Good. Very nice, clean, tight copy. Light tanning. Minimal wear to cover. Fast shipp...
3.

yankeeclipperbooks


via



United States

Softcover, ISBN 1551663112
Publisher: Mira, 1996
Good. Book shows a small amount of wear to cover and binding. Some pages show signs of u...
4.

greenearthbooksstore


via



United States

Softcover, ISBN 1551663112
Publisher: Mira, 1996
Good. Love Song For A Raven
5.

Free State Books


via



United States

Softcover, ISBN 1551663112
Publisher: Mira Books, 1996
Used - Good, Usually ships in 1-2 business days, Book shows minor use. Cover and Binding have minimal wear, and the pages have only minimal creases. Free State Books. Never settle for less.
6.

Yankee Clipper Books


via



United States

Softcover, ISBN 1551663112
Publisher: Mira Books, 1996
Used - Good, Usually ships in 1-2 business days, Book shows a small amount of wear to cover and binding. Some pages show signs of use. Sail the Seas of Value.
7.

Plmbooksandsuch


via



United States

Softcover, ISBN 1551663112
Publisher: Mira Books, 1996
Used - Very Good, Usually ships in 1-2 business days, Very nice, clean, tight copy. Light tanning. Minimal wear to cover. Fast shipping.
8.



United States

Softcover, ISBN 1551663112
Publisher: Mira, 1996

9.

ErgodeBooks


via



United States

Softcover, ISBN 1551663112
Publisher: Mira, 1996
Good. US Edition. Buy with confidence. Excellent Customer Service & Return policy..
10.

FastMedia


via



United States

Softcover, ISBN 1551663112
Publisher: Mira, 1996
Buy with confidence. Excellent Customer Service & Return policy. Good