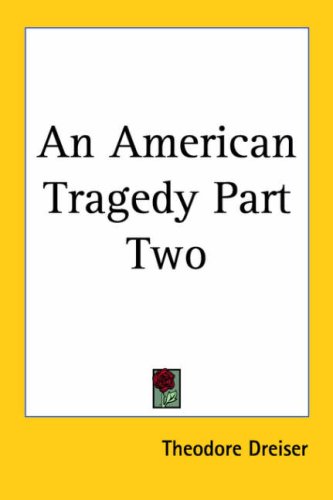 ISBN is
9781419176616 /
1419176617
Publisher:Kessinger Pub Co, 2005
Edition:Softcover
Language:English
Prices INCLUDE standard shipping to United States
Shipping prices may be approximate. Please verify cost before checkout.
About the book:
1925. Volume Two of Two. American author, outstanding representative of naturalism, whose novels depict real-life subjects in a harsh light. Dreiser's books were held to be amoral, and he battled throughout his career against censorship and popular taste. An American Tragedy is a novel based on the famous case of Chester Gilette's murder of Grace Brown and is generally considered to be Dreiser's greatest accomplishment. In the novel, Clyde Griffiths, son of unworldly, evangelist parents, escapes from them to what seems to him the vastly more exciting and colorful life of a bellboy in a Kansas City Hotel; he moves to New York State to work in a collar factory, and when his girl friend Roberta becomes pregnant he drowns her, possibly accidentally in the event, though after much anguished premeditation, and is tried and condemned to death. See other titles by this author available from Kessinger Publishing. Other volumes in this set are ISBN(s): 1417905778.
Search under way...
Search complete.
Click on the price to find out more about a book.