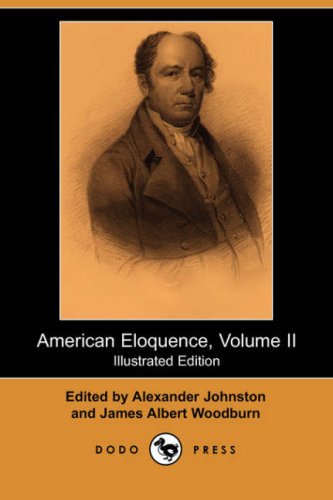 ISBN is
9781406547436 /
1406547433
Publisher:Dodo Press, 2007
Edition:Softcover
Language:English
Prices INCLUDE standard shipping to United States
Shipping prices may be approximate. Please verify cost before checkout.
About the book:
Alexander Johnston (1849-1889) was an American historian who edited American Eloquence which is re-edited by James Albert Woodburn. Johnston was born in Brooklyn, New York. He studied at the Polytechnic Institute of Brooklyn, graduated from Rutgers College in 1870, and was admitted to the bar in 1875 in New Brunswick, New Jersey, where he taught in the Rutgers College grammar school from 1876 to 1879. He was principal of the Latin school of Norwalk, Connecticut, in 1879-1883, and was professor of jurisprudence and political economy in the College of New Jersey (Princeton University) from 1884 until his death in Princeton, New Jersey in 1889. James Albert Woodburn (1856-1943), was an American Professor, author, editor and historian. He was a Professor of American History and Politics at Indiana University from 1890-1924.
Search under way...
Search complete.
Compare book prices from over 100,000 booksellers. Click on the price to find out more about a book.
1.

Big River Books


via



United States

Softcover, ISBN 1406547433
Publisher: Dodo Press, 2007
Good. American Eloquence, Volume II (Illustrated Edition) (Dodo Press)
2.

big_river_books


via



United States

Softcover, ISBN 1406547433
Publisher: Dodo Press, 2007
Good. The cover may have some normal wear. The text has no notes or markings. We ship daily Monday - Friday! . The cover may have some normal wear. The text has no notes or markings. We ship da...
3.

Big River Books


via



United States

Softcover, ISBN 1406547433
Publisher: Dodo Press, 2007
Used - Good. The cover may have some normal wear. The text has no notes or markings. We ship daily Monday - Friday!
4.

Big River Books


via



United States

Softcover, ISBN 1406547433
Publisher: Dodo Press, 2007
Used - Good Good . The cover may have some normal wear. The text has no notes or markings. We ship daily Monday-Friday!
5.

Big River Books


via



United States

Softcover, ISBN 1406547433
Publisher: Dodo Press, 2007
Used - Good, Usually ships in 1-2 business days, The cover may have some normal wear. The text has no notes or markings. We ship daily Monday - Friday!
6.

alibris_movies


via



United States

Softcover, ISBN 1406547433
Publisher: Dodo Press, 2007
Good. Softcover Good The cover may have some normal wear. The text has no notes or marki...
7.



United States

Softcover, ISBN 1406547433
Publisher: Dodo Press, 2007

8.



United States

Softcover, ISBN 1406547433
Publisher: Dodo Press, 2007

9.



United States

Softcover, ISBN 1406547433
Publisher: Dodo Press, 2007
Good The cover may have some normal wear. The text has no notes or markings. We ship daily Monday-Friday!
10.



United States

Softcover, ISBN 1406547433
Publisher: Dodo Press, 2007
used