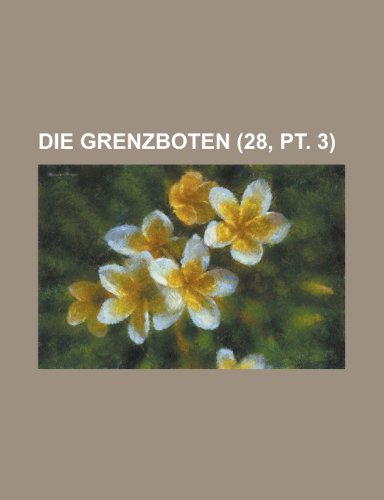 ISBN is
9781234563516 /
1234563517
Publisher:RareBooksClub.com, 2013
Edition:Softcover
Language:English
Prices INCLUDE standard shipping to United States
Shipping prices may be approximate. Please verify cost before checkout.
About the book:
Dieses historische Buch kann zahlreiche Tippfehler und fehlende Textpassagen aufweisen. Käufer können in der Regel eine kostenlose eingescannte Kopie des originalen Buches vom Verleger herunterladen (ohne Tippfehler). Ohne Indizes. Nicht dargestellt. 1869 edition. Auszug: ...be» kommen. Lassen wir das Eisen in unserem Blute nicht verrosten. Mit diesem pathetischen Schluß kündigte der Ritter Josias von Plüskow an, daß sein Haß gegen das Preußenthum uns den von Preußen gegründeten norddeutschen Bund nur auf den rechten Zeitpunkt warte, um die Gestalt einer gewaltsamen Auflehnung anzunehmen. Man würde indessen sehr irren, wenn man die hier mit erwünschter Klarheit sich aussprechende Richtung für mehr als eine bloße Schattirung der in der gesammten feudal»particularistischen Partei unseres Landes lebenden Gedanken und Absichten halten wollte. Die feindselige Gesinnung gegen den norddeutschen Bund und den, wenn auch noch der weiteren Entwicklung bedürftigen, doch entschieden constitutionellen Charakter seiner Verfassung wur» zeit in dem Wesen dieser Partei. Sie kann ihrer Natur nach politische Jn» stitutionen nicht anders als hassen und bekämpfen, welche den Untergang ihrer eigenen staatlichen Einrichtungen und ihrer auf dieselben sich gründenden Herrschaft in sichere Aussicht stellen. Verschiedenheit der Ansichten ist nur in Betreff des.Weges vorhanden, wie der norddeutschen Bundesverfassung und ihren Einwirkungen auf das Privilegienwesen und das Junkerthum zu be» gegnen sei. Die Einen lassen sich durch ihr Temperament treiben, dem nord» deutschen Bunde als erklärte Feinde gegenüber zu treten; die Anderen haben sich mit kühler Berechnung seiner Macht und seiner Forderungen einstweilen gebeugt, um dieselben von innen her zu untergraben und zu zerstören. Aber das Ziel beider ist ein gemeinschaftliches: sie wollen den Particularismus und...
Search under way...
Search complete.
Click on the price to find out more about a book.
1.



United States

Softcover, ISBN 1234563517
Publisher: RareBooksClub.com, 2013
US Edition.
2.

THE SAINT BOOKSTORE


via



United Kingdom

Softcover, ISBN 1234563517
Publisher: Books LLC, 2013
BRAND NEW PRINT ON DEMAND., Review of the Estuary Recovery Model, Independent Scientific Advisory Board
3.



United States

Softcover, ISBN 1234563517
Publisher: RareBooksClub.com, 2013

4.

BuySomeBooks


via



United States

Softcover, ISBN 1234563517
Publisher: RareBooksClub, 2013
This item is printed on demand. Paperback. 20 pages. Original publisher: Portland, Or. : Independent Scientific Advisory Board for the Northwest Power and Conservation Council, Columbia River Basin Indian Tribes, and National Marine Fisheries Service, 2008 OCLC Number: (OCoLC)233987903 Subject: Pacific salmon -- Conservation -- Columbia River Estuary (Or. and Wash. ). Excerpt: . . . E. Appendix Please note that the comments below are examples and are not comprehensive. Executive summary Page

...

(INDEPENDENT SCIENTIFIC ADVISORY BOARD,SUBJECTS)