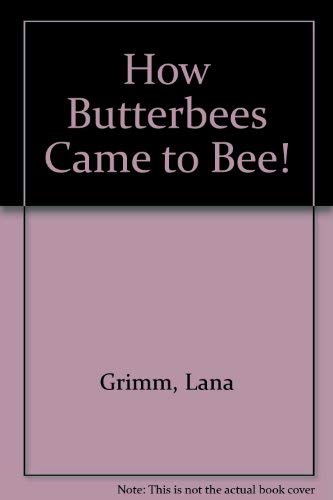 ISBN is
9780966204827 /
0966204824
Publisher:Bee Unlimited, 2000
Edition:Hardcover
Language:English
Prices INCLUDE standard shipping to United States
Shipping prices may be approximate. Please verify cost before checkout.
About the book:
"How Butterbees Came to Bee!" picture book, is a delightful tale, set in enchanting Oak Creek Canyon, Sedona, AZ.
"Butterbees" is written in easy to read verse, with clear, colorful illustrations. The story begins with the surprise meeting between Bonnie Bee and Benny Butterfly. By following their hearts, these amazing beings risk the wrath of the Queen Bee. They befriend each other, fall in love, marry and one day, the magical Butterbees are born. Bizzy and Buzzy Butterbee share the gifts of both bees and butterflies. The Butterbees communicate 'bee positive attitudes', inspire children to discover their many talents, and encourage kids to 'bee the best they can bee'.
This is just the bee-ginning of many magical Butterbee adventures.
Search under way...
Search complete.
Click on the price to find out more about a book.
1.

Blue Cloud Books


via



United States

Hardcover, ISBN 0966204824
Publisher: Bee Unlimited, 2000
Used - Very Good. This book shows minor wear and is in very good condition.
2.

Hippo Books


via



United States

Hardcover, ISBN 0966204824
Publisher: Bee Unlimited, 2000
Used - Very Good. Very Good: Cover and pages show some wear from reading and storage. May have light creases on the cover and binding.
3.

bookssquaredstore


via



United States

Softcover, ISBN 0966204824
Publisher: Bee Unlimited, 2000
Very Good. How Butterbees Came to Bee!
4.

Hawking Books


via



United States

Hardcover, ISBN 0966204824
Publisher: Bee Unlimited, 2000
Very Good. US Edition. Very Good Condition. Has some wear. Five star seller - Ships Quickly - Buy with confidence!.
5.



United States

Hardcover, ISBN 0966204824
Publisher: Bee Unlimited, 2000

6.

Hippo Books


via



United States

Hardcover, ISBN 0966204824
Publisher: Bee Unlimited, 2000
Used - Poor. Acceptable: Possible ex-library copy with the library's markings. May have moderate notes or highlighting. Will no longer have its dust jacket if applicable and accessories may no longer be included.
7.

Blue Cloud Books


via



United States

Hardcover, ISBN 0966204824
Publisher: Bee Unlimited Inc, 2000
Used - Very Good, Usually ships within 1 - 2 business days, Ships from the USA. Please allow 2 to 3 weeks for delivery. This book shows minor wear and is in very good condition. Blue Cloud Books â€" Hot deals from the land of the sun.
8.

Greatbuy Books Usa


via



United States

Hardcover, ISBN 0966204824
Publisher: Bee Unlimited Inc, 2000
Used - Very Good, Usually ships within 1 - 2 business days, Very gently used. Tight binding and clean pages.
9.

Greatbuy Books Usa


via



United States

Hardcover, ISBN 0966204824
Publisher: Bee Unlimited Inc, 2000
Used - Acceptable, Usually ships within 1 - 2 business days, Visibly worn from excessive use but readable copy. May be an ex-library copy and may not include CD and/or Accessories.
10.

Hippo Books


via



United States

Hardcover, ISBN 0966204824
Publisher: Bee Unlimited, 2000
Used - Very Good, Usually ships in 1-2 business days, Excellent condition no markings or writing. Some minor wear from reading