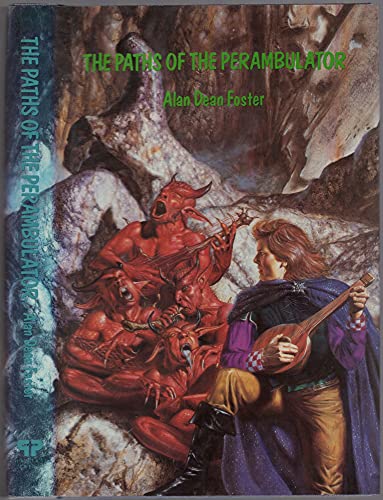 ISBN is
9780932096395 /
0932096395
Publisher:Phantasia Pr, 1985
Edition:Hardcover
Language:English
Prices INCLUDE standard shipping to United States
Shipping prices may be approximate. Please verify cost before checkout.
About the book:
With Clothahump and Mudge the Otter, Jonathan Meriweather, the Spellsinger, now faces the greatest challenge of all - for the mysterious Perambulator is threatening the very fabric of the universe.
Search under way...
Search complete.
Click on the price to find out more about a book.
1.

Sierra Nevada Books


via



United States

Hardcover, ISBN 0932096395
Publisher: Phantasia Pr, 1985
Used - Good, Usually ships in 1-2 business days, Ex-Library Book - will contain Library Markings. Book has some visible wear on the binding, cover, pages. Biggest little used bookstore in the world.
2.

Sierra Nevada Books


via



United States

Hardcover, ISBN 0932096395
Publisher: Phantasia Pr, 1985
Used - Good, Usually ships within 1 - 2 business days, Ships from the USA. Please allow 14-21 business days for delivery. Ex-Library Book - will contain Library Markings. Book has some visible wear on the binding, cover, pages. Biggest little used bookstore in the world.
3.

Sierra Nevada Books


via



United States

Hardcover, ISBN 0932096395
Publisher: Phantasia Pr, 1985
Used - Good. Ex-Library Book - will contain Library Markings. Book has some visible wear on the binding, cover, pages.
4.

Steven Edwards


via



United States

Hardcover, ISBN 0932096395
Publisher: Phantasia Press, 1985
Used. Sewn binding. Cloth over boards. Spellsinger, 5. Stated first edition. Ex-library with usual marks but otherwise in great condition. Dust jacket is preserved in mylar. Awesome cover art by Kevin Eugene Johnson. Very good in very good dust jacket.
5.

MadScience Enterprises


via



United States

Hardcover, ISBN 0932096395
Publisher: Phantasia Press, 1985
Hard cover. Used - Very Good Very good in very good dust jacket . Sewn binding. Cloth over boards. Spellsinger, 5. Stated first edition. Ex-library with usual marks but otherwise in great condition. Dust jacket is preserved in mylar. Awesome cover art by Kevin Eugene Johnson.
6.

alibris_music


via



United States

Hardcover, ISBN 0932096395
Publisher: Phantasia Pr, 1985
Very Good. Hardcover Very good in very good dust jacket. Sewn binding. Cloth over boards. Spe...
7.

sierra_nevada_books


via



United States

Hardcover, ISBN 0932096395
Publisher: Phantasia Pr, 1985
Good. Ex-Library Book - will contain Library Markings. Book has some visible wear on the...
8.

silverarchbooksstore


via



United States

Softcover, ISBN 0932096395
Publisher: Phantasia Pr, 1985
Good. The Paths of the Perambulator (ExLib)
9.

Fab Books


via



United States

Hardcover, ISBN 0932096395
Publisher: Phantasia Pr, 1985
Used - Good, Usually ships in 1-2 business days, Publisher: Phantasia Press Date of Publication: 1985 Binding: hard cover Edition: First Edition Condition: Good/Good Description: 22 Oz 0932096395 Fiction- Sci-fi PICTURE IF SHOWN MIGHT NOT MATCH OUR BOOK.Clean. Little edge wear. X LIBRARY We Ship USPS (US Post Office). Please ensure your address is correct with apt # and PO Box if used. Books returned by USPS for incorrect address are refunded & relisted for you to repurchase. PICTURE IF

...

10.



United States

Hardcover, ISBN 0932096395
Publisher: Phantasia Pr, 1985