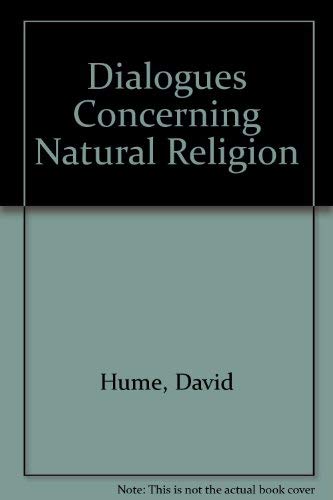 ISBN is
9780915144464 /
0915144468
Prices INCLUDE standard shipping to United States
Shipping prices may be approximate. Please verify cost before checkout.
About the book:
Dialogues concerning pradifed in later ages, and has feldoni Succeeded in the hands of thofe who have attempted it. Accurate and regular argument, indeed, fuch as is now expe(fled of philofophical inquirers, na- turally throws a man into the methodical and didadlic ma;nner ;where he can immediately, without preparation, explain the point at which he aims; and thence proceed, without interruptiony to deduce the proofs on which it is eftablilhed.
(Typographical errors above are due to OCR software and don't occur in the book.)

About the Publisher

Forgotten Books is a publisher of historical writings, such as: Philosophy, Classics, Science, Religion, History, Folklore and Mythology.

Forgotten Books' Classic Reprint Series utilizes the latest technology to regenerate facsimiles of historically important writings. Careful attention has been made to accurately preserve the original format of each page whilst digitally enhancing the aged text. Read books online for free at www.forgottenbooks.org
Search under way...
Search complete.
Click on the price to find out more about a book.
1.

belskiy


via



United States

Hardcover, ISBN 0915144468
Publisher: Hackett Publishing Company, 1980
Used - Good. Some markings.
2.

Belskiy


via



United States

Hardcover, ISBN 0915144468
Publisher: Hackett Pub Co Inc, 1980
Used - Good, Usually ships in 1-2 business days, some markings
3.

vladimir belskiy


via



United States

Hardcover, ISBN 0915144468
Publisher: Hackett Pub Co Inc, 1980
Used. some markings
4.

alibris_books_09


via



United States

Hardcover, ISBN 0915144468
Publisher: Hackett Pub Co Inc, 1980
Good. Good Some markings.
5.

Crystal Book Company


via



United States

Hardcover, ISBN 0915144468
Publisher: Hackett Pub Co Inc, 1980
Used - Good, Usually ships in 1-2 business days, Connecting readers with great books since 1972. Used books may not include companion materials, some shelf wear, may contain highlighting/notes, may not include cd-rom or access codes. Customer service is our top priority!
6.

hpb-crystal


via



United States

Hardcover, ISBN 0915144468
Publisher: Hackett Pub Co Inc, 1980
Good. Connecting readers with great books since 1972. Used books may not include companion materials, some shelf wear, may contain highlighting/notes, may not include cdrom or access codes. Customer service is our top priority! . Connecting readers with great books since 1972. Used books may not include compani...
7.



United States

Hardcover, ISBN 0915144468
Publisher: Hackett Pub Co Inc, 1980

8.



United States

Hardcover, ISBN 0915144468
Publisher: Hackett Pub Co Inc, 1980
Good Some markings.
9.

ErgodeBooks


via



United States

Hardcover, ISBN 0915144468
Publisher: Hackett Pub Co Inc, 1980
Good. US Edition. Buy with confidence. Excellent Customer Service & Return policy..
10.



United States

Hardcover, ISBN 0915144468
Publisher: Hackett Pub Co Inc, 1980
used