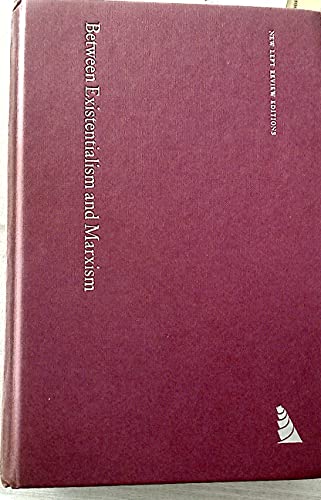 ISBN is
9780902308558 /
0902308556
Prices INCLUDE standard shipping to United States
Shipping prices may be approximate. Please verify cost before checkout.
About the book:
This book presents a full decade of Sartres work, from the publication of the Critique of Dialectical Reason in 1960, the basic philosophical turning-point in his postwar development, to the inception of his major study on Flaubert, the first volumes of which appeared in 1971. The essays and interviews collected here form a vivid panorama of the range and unity of Sartres interests, since his deliberate attempt to wed his original existentialism to a rethought Marxism.



A long and brilliant autobiographical interview, given to New Left Review in 1969, constitutes the best single overview of Sartres whole intellectual evolution. Three analytic texts on the US war in Vietnam, the Soviet invasion of Czechoslovakia, and the lessons of the May Revolt in France, define his political positions as a revolutionary socialist. Questions of philosophy and aesthetics are explored in essays on Kierkegaard, Mallarme and Tintoretto. Another section of the collection explores Sartres critical attitude to orthodox psychoanalysis as a therapy, and is accompanied by rejoinders from colleagues on his journal Les Temps Modernes. The volume concludes with a prolonged reflection on the nature and role of intellectuals and writers in advanced capitalism, and their relationship to the struggles of the exploited and oppressed classes. Between Existentialism and Marxism is an impressive demonstration of the breadth and vitality of Sartres thought, and its capacity to respond to political and cultural changes in the contemporary world.
Search under way...
Search complete.
Click on the price to find out more about a book.
1.

Anybookltduk


via



United Kingdom

Hardcover, ISBN 0902308556
Publisher: NLB, 1974
Used - Acceptable, Usually ships in 1-2 business days, This book has hardback covers. Ex-library, With usual stamps and markings, In poor condition, suitable as a reading copy. Dust Jacket in fair condition.
2.

Imaginationlives


via



United States

Hardcover, ISBN 0902308556
Publisher: NLB, 1974
Used - Very Good, Usually ships in 1-2 business days, NLB, 1974; Clipped Pink DJ, Excellent with light age wear, minimal fading at spine, 2 bottom corners bumped; Inside is clean and unmarked.
3.

Anybookltduk


via



United Kingdom

Hardcover, ISBN 0902308556
Publisher: Nlb, 1974
Used - Acceptable, Usually ships within 1 - 2 business days, This book has hardback covers. Ex-library, With usual stamps and markings, In poor condition, suitable as a reading copy. Dust Jacket in fair condition.
4.

Anybook Ltd.


via



United Kingdom

Hardcover, ISBN 0902308556
Publisher: Nlb, 1974
Used - Poor. This book has hardback covers. Ex-library, With usual stamps and markings, In poor condition, suitable as a reading copy. Dust Jacket in fair condition.; includes dustjacket (PHILOSOPHY)
5.

Anybookltd


via



United Kingdom

Hardcover, ISBN 0902308556
Publisher: NLB, 1974
Used - Acceptable, Usually dispatched within 1-2 business days, This is an ex-library book and may have the usual library/used-book markings inside.This book has hardback covers. In poor condition, suitable as a reading copy. No dust jacket.
6.

Jgrundy3


via



United Kingdom

Hardcover, ISBN 0902308556
Publisher: NLB, 1974
Used - Good, Usually dispatched within 1-2 business days, good ex-library 1974 NLB 1st edition hardback copy in d/wrapper as illustrated, some all round wear but unmarked text. See my photo of the opened book covers
7.

Anybookltd


via



United Kingdom

Hardcover, ISBN 0902308556
Publisher: NLB, 1974
Used - Acceptable, Usually dispatched within 1-2 business days, This book has hardback covers. Ex-library, With usual stamps and markings, In poor condition, suitable as a reading copy. Dust Jacket in fair condition.
8.

Mgoddingbooksltd


via



United Kingdom

Hardcover, ISBN 0902308556
Publisher: NLB, 1974
Used - Good, Usually ships in 1-2 business days, Used: Good/Good jacket; Ink Inscription. Delivery aim 5 to 7 working days to USA. Robust packaging. Airmail worldwide
9.

M Godding Books Ltd


via



United Kingdom

Hardcover, ISBN 0902308556
Publisher: NLB, 1974
0902308556 19 to 25 cm tall, Octavo, (8vo). Ink Inscription. Robust packaging. 1st class post to the UK, Airmail worldwide Hardcover Good NLB 1974-01-01
10.

M Godding Books Ltd


via



United Kingdom

Softcover, ISBN 0902308556
Publisher: NLB, 1974
Good. Between existentialism and Marxism by Sartre, Jean-Paul