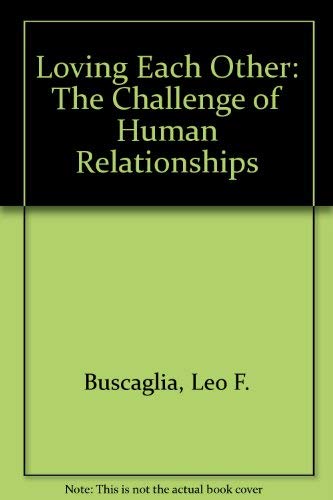 ISBN is
9780896216037 /
0896216039
Publisher:Thorndike Press, 1985
Edition:Hardcover
Language:English
Prices INCLUDE standard shipping to United States
Shipping prices may be approximate. Please verify cost before checkout.
About the book:
In this exploration of loving and living, bestselling author Leo Buscaglia addresses the intricacies and challenges of love relationships. He asks such important questions, as: How do we best interweave our lives with our loved ones? Do we change our way of relating depending on the circumstances: If we fail in one relationship, can we succeed in others? In this exhilarating book, Leo doesn't give pat answers. He presents alternatives and suggests behavior that opens the way to truly loving each other. He recalls with heartwarming detail the importance of his own family and friendships in helping him to be open to grow and to love.
Search under way...
Search complete.
Compare book prices from over 100,000 booksellers. Click on the price to find out more about a book.
1.

Green Earth Books


via



United States

Hardcover, ISBN 0896216039
Publisher: Thorndike Press, 1985
Used - Good. Light shelving wear with minimal damage to cover and bindings. Pages show minor use.
2.

OwlsBooks


via



United States

Hardcover, ISBN 0896216039
Publisher: Thorndike Press, 1985
Used - Good. Good clean copy with no missing pages might be an ex library copy; Possibly may have minor marginal notes and or highlighting
3.

Your Online Bookstore


via



United States

Hardcover, ISBN 0896216039
Publisher: Thorndike Press, 1985
Used - Good. 0896216039
4.

thriftbooksstore


via



United States

Softcover, ISBN 0896216039
Publisher: Thorndike Press, 1985
Good. Loving Each Other: The Challenge of Human Relationships
5.

Green Earth Books


via



United States

Hardcover, ISBN 0896216039
Publisher: Thorndike Press, 1985
Used - Good, Usually ships in 1-2 business days, Light shelving wear with minimal damage to cover and bindings. Pages show minor use. Help save a tree. Buy all your used books from Green Earth Books. Read. Recycle and Reuse.
6.

New Chapter Recycling


via



United States

Hardcover, ISBN 0896216039
Publisher: Thorndike Press, 1985
Used - Very Good, Usually ships in 1-2 business days, Very Good used copy: Some light wear to cover, spine and page edges. Very minimal writing or notations in margins. Text is clean and legible. Possible clean ex-library copy with their stickers and or stamps.
7.

Your Online Bookstore


via



United States

Hardcover, ISBN 0896216039
Publisher: Thorndike Press, 1985
Used - Good, Usually ships in 1-2 business days, Unbeatable customer service, and we usually ship the same or next day. Over one million satisfied customers!
8.



United States

Hardcover, ISBN 0896216039
Publisher: Thorndike Press, 1985
used
9.

Your Online Bookstore


via



United States

Hardcover, ISBN 0896216039
Publisher: Thorndike Press, 1985
Thorndike Press. Hardcover. 0896216039 Unbeatable customer service, and we usually ship the same or next day. Over one million satisfied customers! . Good.
10.



United States

Hardcover, ISBN 0896216039
Publisher: Thorndike Press, 1985