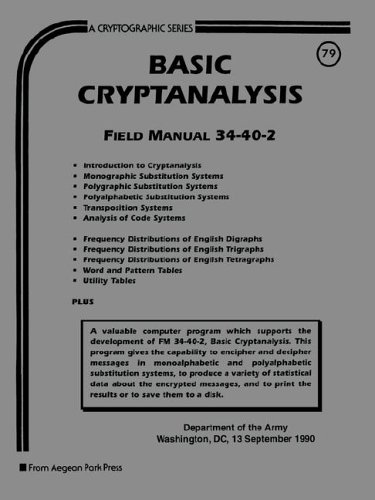 ISBN is
9780894122729 /
089412272X
Publisher:Aegean Park Pr, 1997
Edition:Softcover
Language:English
Prices INCLUDE standard shipping to United States
Shipping prices may be approximate. Please verify cost before checkout.
About the book:
Text contains six parts: Introduction to Cryptanalysis, Monographic Substitution Systems, Polygraphic Substitution Systems, Polyalphabetic Substitution Systems, Transposition Systems, and Analysis of Code Systems. Text also contains exhaustive material to aid in the solution of cipher systems, including frequency distributions, word and pattern tables, as well as utility tables.
Most important, this text contains a valuable computer program which supports the development of Field Manual 34-40-1, Basic Cryptanalysis. The program, a listing of which is provided, gives the capability to encipher and decipher messages in mono­alphabetic and polyalphabetic substitution systems, to produce a variety of statistical data about the encrypted messages, and to print the results or to save them to a disk.
Search under way...
Search complete.
Click on the price to find out more about a book.
1.

patricobooks


via



United States

Softcover, ISBN 089412272X
Publisher: Aegean Park Pr, 1997
Very Good. Ships Out The Next Day
2.

Patrico Books


via



United States

Softcover, ISBN 089412272X
Publisher: Aegean Park Pr, 1997
Aegean Park Pr, 1997-03-01. Paperback. Very Good. Ships Out Tomorrow!
3.

Patrico Books


via



United States

Softcover, ISBN 089412272X
Publisher: Aegean Park Pr, 1997
Used. Ships Out Tomorrow!
4.

Patrico Books


via



United States

Softcover, ISBN 089412272X
Publisher: Aegean Park Pr, 1997
Paperback. Used - Very Good. Ships Out Tomorrow!
5.



United States

Softcover, ISBN 089412272X
Publisher: Aegean Park Pr, 1997
Very Good Ships Out Tomorrow!
6.

alibris


via



United States

Softcover, ISBN 089412272X
Publisher: Aegean Park Pr, 1997
Very Good. Softcover Very Good Ships Out Tomorrow!
7.



United States

Softcover, ISBN 089412272X
Publisher: Aegean Park Pr, 1997

8.

FastMedia


via



United States

Softcover, ISBN 089412272X
Publisher: Aegean Park Pr, 1997
Buy with confidence. Excellent Customer Service & Return policy. Very Good
9.

ErgodeBooks


via



United States

Softcover, ISBN 089412272X
Publisher: Aegean Park Pr, 1997
Very Good. US Edition. Buy with confidence. Excellent Customer Service & Return policy..
10.



United States

Softcover, ISBN 089412272X
Publisher: Aegean Park Pr, 1997
used