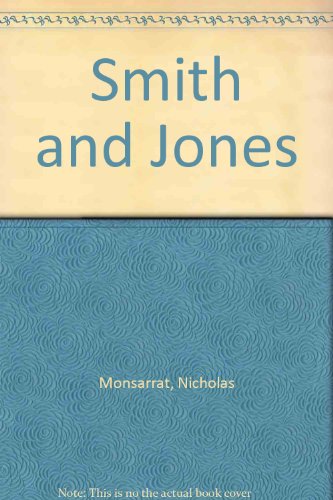 ISBN is
9780891903499 /
0891903496
Publisher:Amereon Ltd, 1989
Edition:Hardcover
Language:English
Prices INCLUDE standard shipping to United States
Shipping prices may be approximate. Please verify cost before checkout.
About the book:
Within the precarious conditions of the Cold War, diplomats Smith and Jones are not to be trusted. But although their files demonstrate evidence of numerous indiscretions and drunkenness, they have friends in high places who ensure that this doesn't count against them, and they are sent across the Iron Curtain. However, when they defect, the threat of absolute treachery means that immediate and effective action has to be taken. At all costs and by whatever means, Smith and Jones must be silenced.
Search under way...
Search complete.
Click on the price to find out more about a book.
1.

patania1610


via



United States

Hardcover, ISBN 0891903496
Publisher: Amereon Ltd, 1989
Very Good. 1963 edition.. Appears new from the outside with minimal marking inside
2.

dongiri12


via



United States

Hardcover, ISBN 0891903496
Publisher: Amereon Ltd, 1989
Very Good. 1963 edition
3.

ErgodeBooks


via



United States

Hardcover, ISBN 0891903496
Publisher: Amereon Ltd, 1989
Very Good. US Edition. Buy with confidence. Excellent Customer Service & Return policy..
4.



United States

Hardcover, ISBN 0891903496
Publisher: Amereon Ltd, 1989
used
5.

Ergodebooks


via



United States

Hardcover, ISBN 0891903496
Publisher: Amereon Ltd, 1989
Amereon Ltd, 1989-06. Hardcover. Very Good. Buy with confidence. Excellent Customer Service & Return policy. Ships Fast. Expedite Shipping Available.
6.

Quality7


via



United States

Hardcover, ISBN 0891903496
Publisher: Amereon Ltd, 1989
Used - Very Good, Usually ships in 1-2 business days, Very Good condition
7.

Tml Bookstore


via



United States

Hardcover, ISBN 0891903496
Publisher: Amereon Ltd, 1989
Used - Good, Expédition sous 1 à 2 jours ouvrés, Expedié Par avion depuis les USA. Prévoir l'arriveé en 7 a 15 jours. Satisfait ou remboursé.
8.

Tml Bookstore


via



United States

Hardcover, ISBN 0891903496
Publisher: Amereon Ltd, 1989
Used - Good, Normalmente se envía en el plazo de 1-2 días laborable, Por favor esperar de 7 a 15 dias para la entrega. Del pedido enviado desde nuestro warehouse en el USA. Reembolso del dinero si no está satisfecho.
9.

Tml Bookstore


via



United States

Hardcover, ISBN 0891903496
Publisher: Amereon Ltd, 1989
Used - Good, Generalmente spedito in 1-2 giorni lavorativi, Venditore orientato al cliente. Navi da USA. Consegna entro 7 - 14 giorni lavorativi con la posta tradizionale. La ringraziamo per il Suo ordine.
10.

Tml Bookstore


via



United States

Hardcover, ISBN 0891903496
Publisher: Amereon Ltd, 1989
Used - Good, Versandfertig in 1 - 2 Werktagen, Geld zurueck Garantie. Versand aus Amerika. Erlauben sie bitte 7 bis 15 Tage fuer Lieferung. Danke