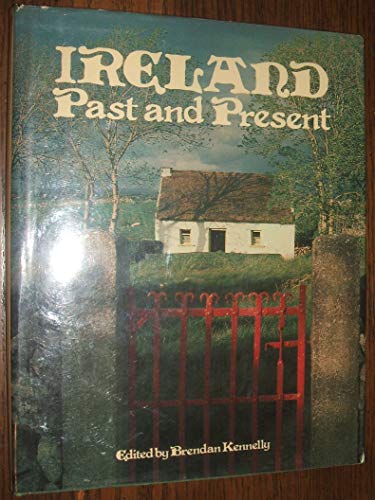 ISBN is
9780890098356 /
0890098352
Prices INCLUDE standard shipping to United States
Shipping prices may be approximate. Please verify cost before checkout.
About the book:
Not designed as a tourist guide, this book discusses the fabric of historical and modern Ireland. The work of six Irish commentators, this book charts the impact of Celts, Christians, Vikings, Normans, Cromwell and Lloyd George on Ireland as well as exploring the sporting obsessions of the Irish, the priests of Ireland and Irish membership of the EEC, and muses on the possibility of an undivided Irish consciousness. The six writers are Terence Brown, Sean White, Sean Kilfeather, David Hanly, Brendan O'Eithir and Liam de Paor.
Search under way...
Search complete.
Click on the price to find out more about a book.
1.

Atlanta Book Company


via



United States

Hardcover, ISBN 0890098352
Publisher: Book Sales, 1985
Used - Acceptable.
2.

Thrift Books


via



United States

Hardcover, ISBN 0890098352
Publisher: Book Sales, 1985
Used - Very Good. Book has appearance of light use with no easily noticeable wear.
3.

Alexthefatdawg-Us


via



United Kingdom

Hardcover, ISBN 0890098352
Publisher: Book Sales, 1985
Used - Good, Usually ships in 1-2 business days, GRADED COMMENSURATE WITH AGE OF BOOK. Usual signs of a well read book but good overall condition. May not look good on your bookcase after reading and probably not suitable as a present unless hard to find elsewhere SECURE NEXT WORKING DAY POSTING BY PRIORITY AIRMAIL FROM UK. 30 DAY MONEY BACK GUARANTEE
4.

atlantabookcompany


via



United States

Hardcover, ISBN 0890098352
Publisher: Book Sales, 1985
Good. A tradition of southern quality and service. All books guaranteed at the Atlanta B...
5.

Atlanta Book Company


via



United States

Hardcover, ISBN 0890098352
Publisher: Book Sales, 1985
Used - Acceptable, Usually ships in 1-2 business days, A tradition of southern quality and service. All books guaranteed at the Atlanta Book Company. Our mailers are 100% recyclable.
6.

Owlsbooks


via



United States

Hardcover, ISBN 0890098352
Publisher: Book Sales, 1985
Used - Good, Usually ships in 1-2 business days, Good copy with moderate cover and page wear from being handled and read. Accessories or dust jacket may be missing. Could be an ex-library copy that will have all the stickers and or marking of the library. Some textual or margin notes and possibly contain highlighting.
7.

Thrift Books


via



United States

Hardcover, ISBN 0890098352
Publisher: Book Sales, 1985
Used - Very Good, Usually ships in 1-2 business days, Book has appearance of light use with no easily noticeable wear. Millions of satisfied customers and climbing. Thriftbooks is the name you can trust, guaranteed. Spend Less. Read More.
8.

motorcitybooksstore


via



United States

Softcover, ISBN 0890098352
Publisher: Book Sales, 1985
Acceptable. Ireland, Past and Present
9.

Gladewater Books


via



United States

Hardcover, ISBN 0890098352
Publisher: Booksales, 1988
Hard cover. Used - Very Good Very good in very good dust jacket jacket has small tear at top of spine flaps of jacket faded copy has a bit of wear at edges corners bumped slightly text and binding fine. Sewn binding. Cloth over boards.
10.

bookssquaredstore


via



United States

Softcover, ISBN 0890098352
Publisher: Book Sales, 1985
Very Good. Ireland, Past and Present