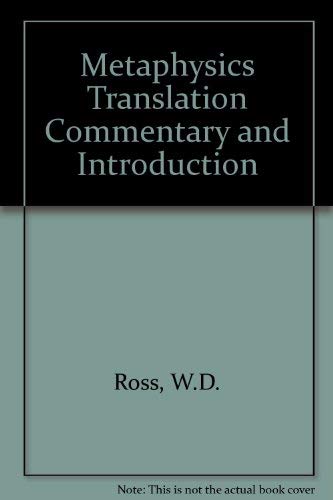 ISBN is
9780890052549 /
0890052549
Publisher:Ares Pub, 1979
Edition:Softcover
Language:English
Prices INCLUDE standard shipping to United States
Shipping prices may be approximate. Please verify cost before checkout.
About the book:
Metaphysics is one of the principal works of Aristotle and the first major work of the branch of philosophy with the same name. The principal subject is "being qua being", or being understood as being. It examines what can be asserted about anything that exists just because of its existence and not because of any special qualities it has. Also covered are different kinds of causation, form and matter, the existence of mathematical objects, and a prime-mover God. The Metaphysics is considered to be one of the greatest of philosophical works. Its influence on the Greeks, the Arabs, the scholastic philosophers and even writers such as Dante, was immense. It is essentially a reconciliation of Platos theory of Forms that Aristotle acquired at the the Academy in Athens, with the view of the world given by common sense and the observations of the natural sciences. According to Plato, the real nature of things is eternal and unchangeable. However, the world we observe around us is constantly and perpetually changing. Aristotles genius was to reconcile these two apparently contradictory views of the world. The result is a synthesis of the naturalism of empirical science, and the mysticism of Plato, that informed the Western intellectual tradition for more than a thousand years.

The result is the theory of the Metaphysics. Aristotle believes that in every change there is something which persists through the change (for example, Socrates), and something else which did not exist before, but comes into existence as a result of the change (musical Socrates). To explain how Socrates comes to be born (since he did not exist before he was born) Aristotle says that it is matter (hyle) that underlies the change. The matter has the form of Socrates imposed on it to become Socrates himself. Thus all the things around us, all substances, are composites of two radically different things: form and matter. This doctrine is sometimes known as Hylomorphism (from the Greek words for matter and form).
Search under way...
Search complete.
Click on the price to find out more about a book.
1.

Better World Books


via



United States

Softcover, ISBN 0890052549
Publisher: Ares Pub, 1979
Used - Very Good. Former Library book. Great condition for a used book! Minimal wear.
2.

betterworldbooks


via



United States

Softcover, ISBN 0890052549
Publisher: Ares Pub, 1979
Very Good. Former Library book. 100% Money Back Guarantee. Shipped to over one million happy...
3.

Betterworldbooks


via



United States

Softcover, ISBN 0890052549
Publisher: Ares Pub, 1979
Used - Very Good, Usually ships in 1-2 business days, Former Library book. Great condition for a used book! Minimal wear. 100% Money Back Guarantee. Shipped to over one million happy customers. Your purchase benefits world literacy!
4.

Better World Books


via



United States

Softcover, ISBN 0890052549
Publisher: Ares Pub, 1979
Very Good. Metaphysics
5.

Better World Books


via



United States

Hardcover, ISBN 0890052549
Publisher: Ares Publishers, 1978
Used - Very Good. Former Library book. Great condition for a used book! Minimal wear. Shipped to over one million happy customers. Your purchase benefits world literacy!
6.

Bloomingdale Books


via



United States

Softcover, ISBN 0890052549
Publisher: Ares Pub, 1979
Used - Good, Usually ships in 1-2 business days, Connecting readers with great books since 1972. Used books may not include companion materials, some shelf wear, may contain highlighting/notes, and may not include cd-rom or access codes. Customer service is our top priority!
7.

hpb-bloomingdale


via



United States

Softcover, ISBN 0890052549
Publisher: Ares Pub, 1979
Good. Connecting readers with great books since 1972. Used books may not include companion materials, some shelf wear, may contain highlighting/notes, may not include cdrom or access codes. Customer service is our top priority! . Connecting readers with great books since 1972. Used books may not include compani...
8.

Betterworldbooks


via



United States

Softcover, ISBN 0890052549
Publisher: Ares Pub, 1979
Used - Very Good, Usually ships within 1 - 2 business days, Shipped from the US -- Expect delivery in 1-2 weeks. Former Library book. Great condition for a used book! Minimal wear. 100% Money Back Guarantee. Shipped to over one million happy customers. Your purchase benefits world literacy!
9.

Better World Books


via



United States

Softcover, ISBN 0890052549
Publisher: Ares Pub, 1979
Very Good. US Edition. Former Library book. Great condition for a used book! Minimal wear. 100% Money Back Guarantee. Shipped to over one million happy customers. Your purchase benefits world literacy!.
10.



United States

Softcover, ISBN 0890052549
Publisher: Ares Pub, 1979