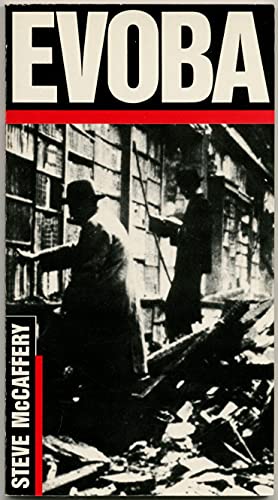 ISBN is
9780889103603 /
0889103607
Publisher:Coach House Pr, 1987
Edition:Softcover
Language:English
Prices INCLUDE standard shipping to United States
Shipping prices may be approximate. Please verify cost before checkout.
About the book:
Evoba is a challenging, hard-won text which never falters from its minute examination of the relation between reader & text. It is a contrapuntal series of fugue-like flights of logic which interweave philosophy, linguistics, humour, visual gesture, and profundity in equal measures. In Evoba McCaffery attempts a semantic expedition through the two-dimensional surface of his writing into a deep, multivalent anti-text, questioning many implicit assumptions of both the reader and the writer along the way.
Search under way...
Search complete.
Click on the price to find out more about a book.
1.

Moe's Books


via



United States

Softcover, ISBN 0889103607
Publisher: Coach House Pr, U.S.A., 1987
Used - Very Good. Near fine.
2.

Moe's Books


via



United States

Softcover, ISBN 0889103607
Publisher: Coach House Pr, 1987
Used - Very Good. 0889103607. 0889103607 Very Good. (Binding: Soft Cover, Jacket: No Jacket) Near fine.
3.

Telegraph Books


via



United States

Softcover, ISBN 0889103607
Publisher: Coach House Pr, 1987
Used - Very Good, Usually ships in 1-2 business days, Publisher: Coach House Pr Date of Publication: 1987 Binding: soft cover Edition: Condition: Very Good/No Jacket Description: 0889103607 Near fine.
4.

Brock Avenue Arts


via



Canada

Softcover, ISBN 0889103607
Publisher: Coach House Pr, 1987
Very Good. Evoba: The Investigations Meditations 1976-78 by Steve McCaffery - Coach House
5.

alibris


via



United States

Softcover, ISBN 0889103607
Publisher: Coach House Pr, 1987
Very Good. Softcover Very Good 0889103607. 0889103607 Very Good. (Binding: Soft Cover, Jacket...
6.



United States

Softcover, ISBN 0889103607
Publisher: Coach House Pr, 1987

7.

Renaissance Books


via



Canada

Softcover, ISBN 0889103607
Publisher: Coach House Press, 1987
Toronto, Ontario, Canada: Coach House Press, 1987. Essentially fine, unread copy, with slightest traces of wear to extremities.. First Printing of the First Edition. Soft Cover. Near Fine. First edition.
8.



United States

Softcover, ISBN 0889103607
Publisher: Coach House Pr, 1987
Very Good 0889103607 Very Good. (Binding: Soft Cover, Jacket: No Jacket) Near fine. 0889103607.
9.

Renaissance Books


via



Canada

Softcover, ISBN 0889103607
Publisher: Coach House Press, Toronto, Ontario, Canada, 1987
Used - Near Fine. Essentially fine, unread copy, with slightest traces of wear to extremities. (CANADIAN POETRY)
10.

Antiquariat Eckert & Kaun


via



Germany

Softcover, ISBN 0889103607
Publisher: Toronto, The Coach House Press 1987., 1987
Erste Ausgabe.- First edition.- Kanten minimal berieben, gutes Exemplar.- Edges with minimal rubbings, fine copy. Versand D: 3,00 EUR