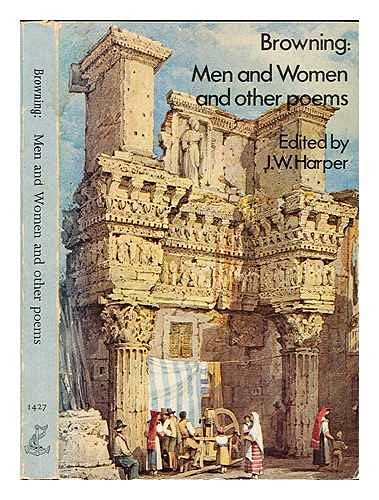 ISBN is
9780874716498 /
0874716497
Publisher:J. M. Dent ; Rowman and Li..., 1975
Edition:Softcover
Prices INCLUDE standard shipping to United States
Shipping prices may be approximate. Please verify cost before checkout.
About the book:
In "Men and Women" Browning exhibits the flair, lyricism and idiosyncrasy which have captivated, enthralled and sometimes baffled his readers. In poems including 'Fra Lippo Lippi' and 'Bishop Blugram's Apology', Browning enters the personality and language of his characters, revelling in their unwitting self-revelation. Elsewhere Browning contemplates the relationships between love and the lyric, the poet and the painter, poetry and music.
Search under way...
Search complete.
Click on the price to find out more about a book.
1.

Books Squared Usa


via



United States

Softcover, ISBN 0874716497
Publisher: J. M. Dent ; Rowman and Littlefield, 1975
Used - Good, Expédition sous 1 à 2 jours ouvrés, Ships from USA. Please allow 2 to 3 weeks for delivery. Only lightly used. Book has minimal wear to cover and binding. A few pages may have small creases and minimal underlining. Book selection as BIG as Texas.
2.

Degrifflivres


via



France

Softcover, ISBN 0874716497
Publisher: J. M. Dent ; Rowman and Littlefield, 1975
Used - Good, Expédition sous 1 à 2 jours ouvrés, expédition sécurisée immédiate.destockage de magasin
3.

Books Squared


via



United States

Softcover, ISBN 0874716497
Publisher: J. M. Dent ; Rowman and Littlefield, 1975
Used - Good. Only lightly used. Book has minimal wear to cover and binding. A few pages may have small creases and minimal underlining.
4.

waddlebooks


via



United States

Softcover, ISBN 0874716497
Publisher: J. M. Dent ; Rowman and Littlefield, 1975
Acceptable. We ship the same or next day and provide a tracking number with tracking info. A book with obvious wear. May have some damage to the cover and pages but integrity still intact accessories like cds, toys etc may not be included. Photo is a stock catalog image cover may be different. . We ship the same or next day and provide a tracking number with tracking info. A ...
5.



United States

Softcover, ISBN 0874716497
Publisher: J. M. Dent ; Rowman and Littlefield, 1975

6.

books_squared


via



United States

Softcover, ISBN 0874716497
Publisher: J. M. Dent ; Rowman and Littlefield, 1975
Good. Only lightly used. Book has minimal wear to cover and binding. A few pages may hav...
7.

Waddle Books Inc.


via



United States

Softcover, ISBN 0874716497
Publisher: Rowman & Littlefield Publishers, Incorporated, 1975
Unabridged.. Used - Fair Fair . We ship the same or next day and provide a tracking number with tracking info. A book with obvious wear. May have some damage to the cover and pages but integrity still intact accessories like cds, toys etc may not be included. Photo is a stock catalog image cover may be different. Unabridged.
8.

Waddleshop


via



United States

Softcover, ISBN 0874716497
Publisher: J. M. Dent ; Rowman and Littlefield, 1975
Used - Acceptable, Usually ships in 1-2 business days, We ship the same or next day and provide a tracking number with tracking info. A book with obvious wear. May have some damage to the cover and pages but integrity still intact accessories like cds, toys etc may not be included. Photo is a stock catalog image cover may be different.
9.

Books Squared


via



United States

Softcover, ISBN 0874716497
Publisher: J. M. Dent ; Rowman and Littlefield, 1975
Used - Good, Usually ships in 1-2 business days, Only lightly used. Book has minimal wear to cover and binding. A few pages may have small creases and minimal underlining. Book selection as BIG as Texas.
10.

thriftbooksstore


via



United States

Softcover, ISBN 0874716497
Publisher: J. M. Dent ; Rowman and Littlefield, 1975
Good. Men and women, and other poems