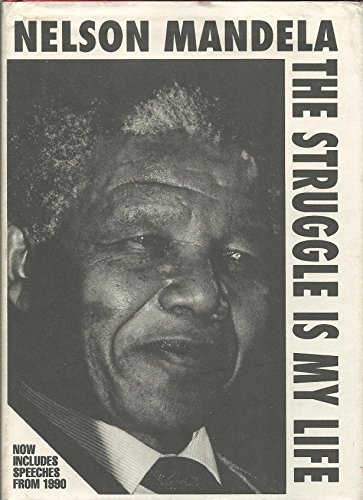 ISBN is
9780873485944 /
0873485947
Publisher:Pathfinder Pr, 1992
Edition:Hardcover
Language:English
Prices INCLUDE standard shipping to United States
Shipping prices may be approximate. Please verify cost before checkout.
About the book:
Nelson Mandela's speeches and political writings from his days as a leader of the African National Congress Youth League in 1944 until his release from prison in 1990.
Search under way...
Search complete.
Click on the price to find out more about a book.
1.

Better World Books


via



United States

Hardcover, ISBN 0873485947
Publisher: Pathfinder Pr, 1992
Good. US Edition. Former Library book. Shows some signs of wear, and may have some markings on the inside. 100% Money Back Guarantee. Shipped to over one million happy customers. Your purchase benefits world literacy! JACKET..
2.

Better World Books


via



United States

Hardcover, ISBN 0873485947
Publisher: Pathfinder Pr, 1992
Used - Good. Former Library book. Shows some signs of wear, and may have some markings on the inside.
3.

Betterworldbooks


via



United States

Hardcover, ISBN 0873485947
Publisher: Pathfinder Pr, 1992
Used - Good, Usually ships in 1-2 business days, Former Library book. Shows some signs of wear, and may have some markings on the inside. 100% Money Back Guarantee. Shipped to over one million happy customers. Your purchase benefits world literacy!
4.



United States

Hardcover, ISBN 0873485947
Publisher: Pathfinder Pr, 1992
used
5.

Better World Books


via



United States

Hardcover, ISBN 0873485947
Publisher: Pathfinder Pr, 1992
Pathfinder Pr. Used - Good. Former Library book. Shows some signs of wear, and may have some markings on the inside.
6.

Better World Books


via



United States

Hardcover, ISBN 0873485947
Publisher: Pathfinder Pr, 1992
Pathfinder Pr. Used - Good. Former Library book. Shows some signs of wear, and may have some markings on the inside. 100% Money Back Guarantee. Shipped to over one million happy customers. Your purchase benefits world literacy!
7.

Better World Books


via



United States

Softcover, ISBN 0873485947
Publisher: Pathfinder Pr, 1992
Good. Nelson Mandela: The Struggle Is My Life : His Speeches and Writings Brought Toge
8.

betterworldbooks


via



United States

Hardcover, ISBN 0873485947
Publisher: Pathfinder Pr, 1992
Good. Former Library book. 100% Money Back Guarantee. Shipped to over one million happy ...
9.

Better World Books


via



United States

Hardcover, ISBN 0873485947
Publisher: IDAF Publications, 1990
Rev. ed.. Used - Good. Former Library book. Shows some signs of wear, and may have some markings on the inside. Shipped to over one million happy customers. Your purchase benefits world literacy! Rev. ed.
10.

Bindings & Grindings


via



United States

Hardcover, ISBN 0873485947
Publisher: Pathfinder Pr, 1992
Used - Very Good, Usually ships in 1-2 business days, Book is in very good condition. Hardcover