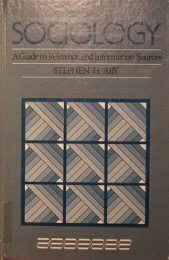 ISBN is
9780872874985 /
0872874982
Publisher:Libraries Unlimited Inc, 1987
Edition:Hardcover
Language:English
Prices INCLUDE standard shipping to United States
Shipping prices may be approximate. Please verify cost before checkout.
About the book:
Now in its third edition, this critically acclaimed work provides undergraduate and graduate students, faculty, and librarians with descriptions of approximately 610 major reference sources in sociology, its subdisciplines, and the related social sciences. Emphasis in this edition is on works in English published in the United States, Great Britain, Canada, and Australia from 1997 through early 2004. Coverage of earlier works is included if coverage is historically important or not historically bound. The third edition has been reorganized for ease of searching, and adds over 325 new titles and electronic sources, as well surveying new editions and updates of previously cited works, making this a substantial revision and complement to the previous edition.
Search under way...
Search complete.
Click on the price to find out more about a book.
1.

silverarchbooksstore


via



United States

Softcover, ISBN 0872874982
Publisher: Libraries Unlimited Inc, 1987
Good. Sociology: A Guide to Reference and Information Sources (Reference... (ExLib)
2.

Books Squared


via



United States

Hardcover, ISBN 0872874982
Publisher: Libraries Unlimited Inc, 1987
Unabridged.. Hardcover. Used - Good Good . Ex-Library Book-will contain Library Markings. Only lightly used. Book has minimal wear to cover and binding. A few pages may have small creases and minimal underlining. Book selection as BIG as Texas. Unabridged.
3.

Books Squared


via



United States

Hardcover, ISBN 0872874982
Publisher: Libraries Unlimited Inc, 1987
Used - Good, Usually ships in 1-2 business days, Ex-Library Book - will contain Library Markings. Only lightly used. Book has minimal wear to cover and binding. A few pages may have small creases and minimal underlining. Book selection as BIG as Texas.
4.

Anybookltduk


via



United Kingdom

Hardcover, ISBN 0872874982
Publisher: Libraries Unlimited Inc, 1987
Used - Good, Usually ships in 1-2 business days, This book has hardback covers.Ex-library,With usual stamps and markings,In good all round condition.No dust jacket.
5.

Anybookltduk


via



United Kingdom

Hardcover, ISBN 0872874982
Publisher: Libraries Unlimited Inc, 1987
Used - Acceptable, Usually ships in 1-2 business days, Hardcover,ex-library, with usual stamps and markings, in fair all round condition, suitable as a reading copy.
6.



United States

Hardcover, ISBN 0872874982
Publisher: Libraries Unlimited Inc, 1987

7.

Books


via



United States

Hardcover, ISBN 0872874982
Publisher: Libraries Unlimited Inc, 1987
Used. exlibrary, usual library markings, text clean, binding tight,
8.

Books Squared


via



United States

Hardcover, ISBN 0872874982
Publisher: Libraries Unlimited Inc, 1987
Used - Good. Ex-Library Book - will contain Library Markings. Only lightly used. Book has minimal wear to cover and binding. A few pages may have small creases and minimal underlining.
9.

alibris_books_08


via



United States

Hardcover, ISBN 0872874982
Publisher: Libraries Unlimited Inc, 1987
Good. Ex-library. Good Exlibrary, usual library markings, text clean, binding tight,
10.



United States

Hardcover, ISBN 0872874982
Publisher: Libraries Unlimited Inc, 1987