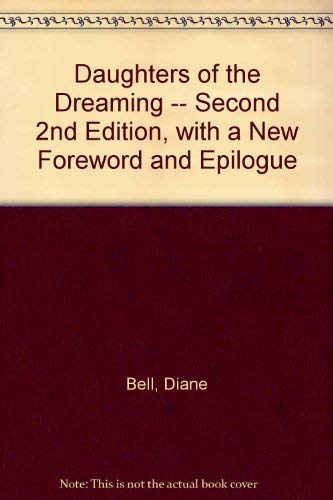 ISBN is
9780868614649 /
0868614645
Publisher:Allen & Unwin, 1983
Language:English
Prices INCLUDE standard shipping to United States
Shipping prices may be approximate. Please verify cost before checkout.
About the book:
First published in 1983, "Daughters of the Dreaming" remains an important study of Aboriginal women's lives from a woman's perspective. In this second edition, Diane Bell reviews her work from the position of the 1990s. In her epilogue she discusses her writing as a young anthropologist in the field from the current standpoint as a professor one decade on. "Daughters of Dreaming" raised issues about gender relations in Aboriginal society that are still being discussed and debated. For Bell, a disturbing enigma was that anthropologists depicted a group of proud women, knowledgeable in the ways of the Dreaming Law, as second-class citizens. She redresses this by presenting a factual account of the roles played by Aboriginal women.
Search under way...
Search complete.
Click on the price to find out more about a book.
1.

Moodybk


via



United States

Hardcover, ISBN 0868614645
Publisher: Allen & Unwin, 1983
Used - Very Good, Usually ships in 1-2 business days, STIFF WRAPS SOFTBOUND VERY GOOD. NOT PUB; IN DJ DAUGHTERS OF DREAMING. OCTAVO. THIS IS A VERY GOOD COPY OF THIS SCARCE AND IMPORTANT VOLUME...WRITTEN BY THE BRILLIAN DIANE BELL....DAUGHTERS OF DREAMING.....THIS IS AN IMPORTANT STUDY ON THE ABORIGINALS OF CENTRAL AUSTRALIA. NEARLY 300 PAGES OF UNMARKED TEXT AND PHOTOS BOUND IN STIFF PICTORIAL WRAPS....THERE IS SOME SMOKE DARKENING TO PAGE EDGES....ALSO ON SPINE...NO REAL DAMAGE TO THE BOOK

...

2.

Moody Books Inc


via



United States

Softcover, ISBN 0868614645
Publisher: GEORGE ALLEN, North SYDNEY, 1985
SOFTBOUND. STIFF WRAPS. Used - Very Good VERY GOOD NOT PUB IN DJ. DAUGHTERS OF DREAMING. OCTAVO. THIS IS A VERY GOOD COPY OF THIS SCARCE AND IMPORTANT VOLUME...WRITTEN BY THE BRILLIAN DIANE BELL....DAUGHTERS OF DREAMING.....THIS IS AN IMPORTANT STUDY ON THE ABORIGINALS OF CENTRAL AUSTRALIA. NEARLY 300 PAGES OF UNMARKED TEXT AND PHOTOS BOUND IN STIFF PICTORIAL WRAPS....THERE IS SOME SMOKE DARKENING TO PAGE EDGES....ALSO ON SPINE...NO REAL DAMAGE TO THE BOOK BUT SOME STAINING...THIS IS ONE OF

...

3.



United States

Hardcover, ISBN 0868614645
Publisher: Allen & Unwin, 1983

4.

Moody Books, Inc


via



United States

Hardcover, ISBN 0868614645
Publisher: GEORGE ALLEN, 1985
North SYDNEY: GEORGE ALLEN, 1985. THIS IS A VERY GOOD COPY OF THIS SCARCE AND IMPORTANT VOLUME...WRITTEN BY THE BRILLIAN DIANE BELL...DAUGHTERS OF DREAMING...THIS IS AN IMPORTANT STUDY ON THE ABORIGINALS OF CENTRAL AUSTRALIA..NEARLY 300 PAGES OF UNMARKED TEXT AND PHOTOS BOUND IN STIFF PICTORIAL WRAPS...THERE IS SOME SMOKE DARKENING TO PAGE EDGES...ALSO ON SPINE...NO REAL DAMAGE TO THE BOOK BUT SOME STAINING...THIS IS ONE OF THE BOOKS THAT WAS SAVED FROM A DEVASTATING HOUSE WE THOUSANDS OF

...

5.

Moody Books, Inc


via



United States

Softcover, ISBN 0868614645
Publisher: GEORGE ALLEN, North SYDNEY, 1985
Used - Very Good. THIS IS A VERY GOOD COPY OF THIS SCARCE AND IMPORTANT VOLUME.WRITTEN BY THE BRILLIAN DIANE BELL.DAUGHTERS OF DREAMING.THIS IS AN IMPORTANT STUDY ON THE ABORIGINALS OF CENTRAL AUSTRALIA.NEARLY 300 PAGES OF UNMARKED TEXT AND PHOTOS BOUND IN STIFF PICTORIAL WRAPS.THERE IS SOME SMOKE DARKENING TO PAGE EDGES.ALSO ON SPINE.NO REAL DAMAGE TO THE BOOK BUT SOME STAINING.THIS IS ONE OF THE BOOKS THAT WAS SAVED FROM A DEVASTATING HOUSE WE THOUSANDS OF BOOKS WERE DESTROYED.THE FLEEING

...

(DAUGHTERS OF DREAMING)
6.



United States

Hardcover, ISBN 0868614645
Publisher: Allen & Unwin, 1983
VERY GOOD. NOT PUB; IN DJ THIS IS A VERY GOOD COPY OF THIS SCARCE AND IMPORTANT VOLUME...WRITTEN BY THE BRILLIAN DIANE BELL....DAUGHTERS OF DREAMING.....THIS IS AN IMPORTANT STUDY ON THE ABORIGINALS OF CENTRAL AUSTRALIA. NEARLY 300 PAGES OF UNMARKED TEXT AND PHOTOS BOUND IN STIFF PICTORIAL WRAPS....THERE IS SOME SMOKE DARKENING TO PAGE EDGES....ALSO ON SPINE...NO REAL DAMAGE TO THE BOOK BUT SOME STAINING...THIS IS ONE OF THE BOOKS THAT WAS SAVED FROM A DEVASTATING HOUSE WE THOUSANDS OF BOOKS

...

7.

Brunswick Books


via



Australia

Softcover, ISBN 0868614645
Publisher: McPhee Gribble, North Sydney, 1983
Used - Good. Aboriginal Women's Roles In Australian Aboriginal Desert Culture,As Maintainers Of The Land Is Very Important. So This Study Is Long Overdue And It's Impact Will Be Profound.A Work Of Ethnographic Importance. Explores The Nature Of Chages Taking Place In Gender Relations Within Aboriginal Society. 297 Pp. Including Index. Illustrated With B/W Photographs. Maps. Book Weighs Approx.550G (ABORIGINAL HISTORY)