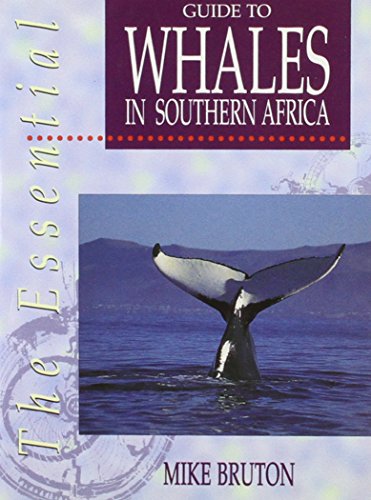 ISBN is
9780864863485 /
0864863489
Publisher:David Philip, 1998
Edition:Hardcover
Language:English
Prices INCLUDE standard shipping to United States
Shipping prices may be approximate. Please verify cost before checkout.
About the book:
Designed to provide authoritative information, this text has been compiled by whale specialist Professor Mike Bruton in association with MTN Cape Whale Route.
Search under way...
Search complete.
Click on the price to find out more about a book.
1.

Yankee Clipper Books


via



United States

Hardcover, ISBN 0864863489
Publisher: David Philip, 1998
Used - Good. Book shows a small amount of wear to cover and binding. Some pages show signs of use.
2.

pooterdime


via



United States

Hardcover, ISBN 0864863489
Publisher: David Philip, 1998
Like New. 1st Edition, David Philip Pub., Capetown l998, like new in pictorial jacket, date (l999) & Capetown written on flyleaf, many whale illustrations, 80 pages. Rare.. 1st edition, David Philip Pub. l998, like new in jacket, date and Capetown written...
3.

Treasure Trader


via



United States

Hardcover, ISBN 0864863489
Publisher: David Phillips Publishers, 1998
David Phillips Publishers, 1998-12-31. Hardcover. Like New. Brand new but with very minimal shelfwear at head and foot of spine. Crisp, clean, tight, never read, no marks.
4.

Awesomebooksusa


via



United States

Hardcover, ISBN 0864863489
Publisher: David Philip, 1998
Used - Good, Usually ships in 1-2 business days, This book is in good or better condition. It has no tears to the pages and no pages will be missing from the book. The spine of the book is still in great condition and the front cover is generally unmarked. It has signs of previous use but overall is in really nice, tight condition. Shipping is normally same day from our warehouse. We offer a money back guarantee if you are not satisfied.
5.

Thebookgrove


via



United States

Hardcover, ISBN 0864863489
Publisher: David Philip, 1998
Used - Good, Usually ships in 1-2 business days, Has writing. Satisfaction guaranteed. All inquiries answered promptly and courteously.
6.

Treasuretrader


via



United States

Hardcover, ISBN 0864863489
Publisher: David Philip, 1998
Used - Like New, Usually ships in 1-2 business days, Brand new but with very minimal shelfwear at head and foot of spine. Crisp, clean, tight, never read, no marks.
7.

AwesomeBooksUSA


via



United States

Hardcover, ISBN 0864863489
Publisher: David Philip, 1998
Hardcover. Used - Good Used Good. Book in good or better condition. Dispatched same day from US or UK warehouse.
8.

awesomebooksusa


via



United States

Hardcover, ISBN 0864863489
Publisher: David Philip, 1998
Very Good. <table><tr><td><embed src='http://www.awesomebooks.c- o.uk/ebay/awesomebooks.swf' quality='high' pluginspage='http://www.macrom- edia.com/go/getflashplayer' type='application/x-shockwave-- flash' width='780' height='240'></embed></td></tr- >< tr >< td >< hr ></ td ></ tr >< tr >< td >< h3 >< b >< u > Book Description</u></b></h3></td><- / tr >< tr >< td >< table >< tr >< td >< b > Title : </b></td><td>The Essential Guide to Whales in Southern Africa (Essays &amp; In

...

9.



United States

Hardcover, ISBN 0864863489
Publisher: David Philip, 1998

10.

Quality7


via



United States

Hardcover, ISBN 0864863489
Publisher: David Philip, 1998
Used - Very Good, Usually ships in 1-2 business days, Very Good condition