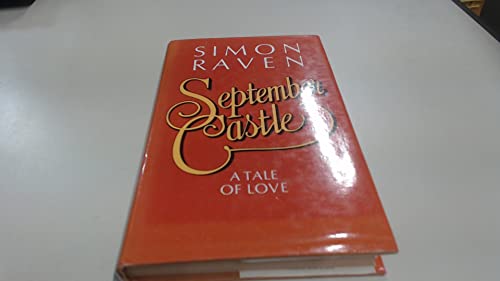 ISBN is
9780856341236 /
0856341231
Publisher:Frederick Muller Ltd, 1983
Edition:Hardcover
Language:English
Prices INCLUDE standard shipping to United States
Shipping prices may be approximate. Please verify cost before checkout.
About the book:
Basic human desires merge with the occult in a complex and erotic tale of a hunt across Europe. Ptolemaeos Tunne is determined to discover a hoard of valuable buried treasure. His only clue is a bizarre medieval legend about a possessed Greek princess with a bad reputation. What he doesnt know is that his sixteen-year-old mistress Jo-Jo has unwittingly betrayed him to some very dangerous enemies.
Search under way...
Search complete.
Click on the price to find out more about a book.
1.

thriftbooksstore


via



United States

Softcover, ISBN 0856341231
Publisher: Frederick Muller Ltd, 1983
Good. September Castle
2.

Betterworldbooks


via



United States

Hardcover, ISBN 0856341231
Publisher: Frederick Muller Ltd, 1983
Used - Good, Usually ships in 1-2 business days, Former Library book. Shows some signs of wear, and may have some markings on the inside. 100% Money Back Guarantee. Shipped to over one million happy customers. Your purchase benefits world literacy!
3.

Books Squared


via



United States

Hardcover, ISBN 0856341231
Publisher: Frederick Muller Ltd, 1983
Used - Good, Usually ships in 1-2 business days, Only lightly used. Book has minimal wear to cover and binding. A few pages may have small creases and minimal underlining. Book selection as BIG as Texas.
4.



United States

Hardcover, ISBN 0856341231
Publisher: Frederick Muller Ltd, 1983

5.

awesomebooksusa


via



United States

Hardcover, ISBN 0856341231
Publisher: Frederick Muller Ltd, 1983
Very Good. <table><tr><td><embed src='http://www.awesomebooks.c- o.uk/ebay/awesomebooks.swf' quality='high' pluginspage='http://www.macrom- edia.com/go/getflashplayer' type='application/x-shockwave-- flash' width='780' height='240'></embed></td></tr- >< tr >< td >< hr ></ td ></ tr >< tr >< td >< h3 >< b >< u > Book Description</u></b></h3></td><- / tr >< tr >< td >< table >< tr >< td >< b > Title : </b></td><td>September Castle</td></tr><tr><td><b>Aut- hor: </b></td><td> Simon

...

6.

books_squared


via



United States

Hardcover, ISBN 0856341231
Publisher: Frederick Muller Ltd, 1983
Good. Only lightly used. Book has minimal wear to cover and binding. A few pages may hav...
7.

AwesomeBooks


via



United Kingdom

Hardcover, ISBN 0856341231
Publisher: Frederick Muller Ltd 01/02/1983, 1983
Used. - GREAT BOOK IN GOOD OR BETTER CONDITION, NORMALLY SENT SAME DAY FROM WAREHOUSE.
8.

Books Squared


via



United States

Hardcover, ISBN 0856341231
Publisher: Frederick Muller Ltd, 1983
Used - Good. Only lightly used. Book has minimal wear to cover and binding. A few pages may have small creases and minimal underlining.
9.

AwesomeBooksUSA


via



United States

Hardcover, ISBN 0856341231
Publisher: Frederick Muller Ltd, 1983
Hardcover. Used - Good Used Good. Book in good or better condition. Dispatched same day from US or UK warehouse.
10.



United States

Hardcover, ISBN 0856341231
Publisher: Frederick Muller Ltd, 1983