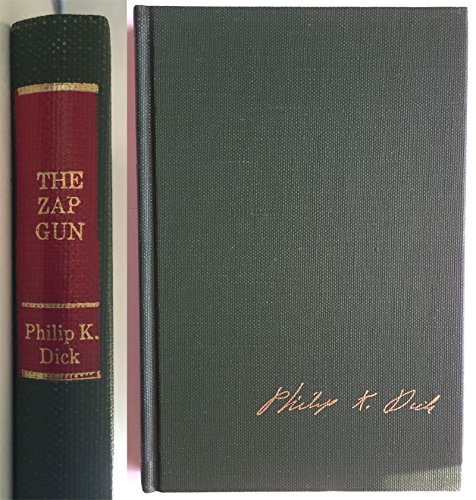 ISBN is
9780839824947 /
0839824947
Publisher:Gregg Press, 1979
Edition:Hardcover
Language:English
Prices INCLUDE standard shipping to United States
Shipping prices may be approximate. Please verify cost before checkout.
About the book:
Scaldingly sarcastic yet enduringly empathetic, The Zap Gun is Dicks remarkable novel depicting the insanity of the arms race. Lars Powderdry and Lilo Topchev are counterpart weapons fashion designers for a world divided into two factionsWes-bloc and Peep-East. Since the Plowshare Protocols of 2002, their job has been to invent elaborate weapons that only seem massively lethal. But when alien satellites hostile to both sides appear in the sky, the two are brought together in the dire hope that they can create a weapon to save the world, a task made all the more difficult by Lars falling in love with Lilo even as he knows shes trying to kill him.
Search under way...
Search complete.
Click on the price to find out more about a book.
1.

Lacey Books


via



United Kingdom

Hardcover, ISBN 0839824947
Publisher: Gregg Press, 1979
Used - Acceptable, International shipping, Usually dispatched within 24 hours, 1979 Gregg Press hardcover edition. Ex library copy with stamps and labels and without dustjacket else good condition.. Shipped from Amazon.
2.

Lacey Books Ltd


via



United Kingdom

Hardcover, ISBN 0839824947
Publisher: Gregg Press, 1979
Used - Acceptable. 1979 Gregg Press hardcover edition. Ex library copy with stamps and labels and without dustjacket else good condition.
3.

Laceybooks


via



United Kingdom

Hardcover, ISBN 0839824947
Publisher: Gregg Press, 1979
Used - Acceptable, Expédition sous 1 à 2 jours ouvrés, 1979 Gregg Press hardcover edition. Ex library copy with stamps and labels and without dustjacket else good condition.
4.

Laceybooks


via



United Kingdom

Hardcover, ISBN 0839824947
Publisher: Gregg Press, 1979
Used - Acceptable, Versandfertig in 1 - 2 Werktagen, 1979 Gregg Press hardcover edition. Ex library copy with stamps and labels and without dustjacket else good condition.
5.

Lacey Books


via



United Kingdom

Hardcover, ISBN 0839824947
Publisher: Gregg Press, 1979
Used - Acceptable, Usually ships in 1-2 business days, 1979 Gregg Press hardcover edition. Ex library copy with stamps and labels and without dustjacket else good condition.
6.

Gunn Books


via



United States

Hardcover, ISBN 0839824947
Publisher: The Gregg Press, Boston, 1979
Used - Good. Lightly ex-library copy with most of the indicators confined to the pastedowns. The buckram hardcover binding is solid and holding strong. The text is clean and unmarked. Ex-library, but still a solid, generally clean, copy of this first hardcover edition. xii, 176pp.
7.

Gunn Books


via



United States

Hardcover, ISBN 0839824947
Publisher: The Gregg Press, Boston, 1979
First Thus. Hardcover. Used - Good Good in None issued jacket. Book. 8vo-over 7¾-9¾" tall. Lightly ex-library copy with most of the indicators confined to the pastedowns. The buckram hardcover binding is solid and holding strong. The text is clean and unmarked. Ex-library, but still a solid, generally clean, copy of this first hardcover edition. xii, 176pp. First Thus
8.

Gunn-Books


via



United States

Hardcover, ISBN 0839824947
Publisher: Gregg Press, 1979
Used - Good, Usually ships in 1-2 business days, Lightly ex-library copy with most of the indicators confined to the pastedowns. The buckram hardcover binding is solid and holding strong. The text is clean and unmarked. Ex-library, but still a solid, generally clean, copy of this first hardcover edition. xii, 176pp.
9.



United States

Hardcover, ISBN 0839824947
Publisher: Gregg Press, 1979
Good+ in None issued jacket Lightly ex-library copy with most of the indicators confined to the pastedowns. The buckram hardcover binding is solid and holding strong. The text is clean and unmarked. Ex-library, but still a solid, generally clean, copy of this first hardcover edition. xii, 176pp. Book. 8vo-over 7¾-9¾" tall.
10.



United States

Hardcover, ISBN 0839824947
Publisher: Gregg Press, 1979