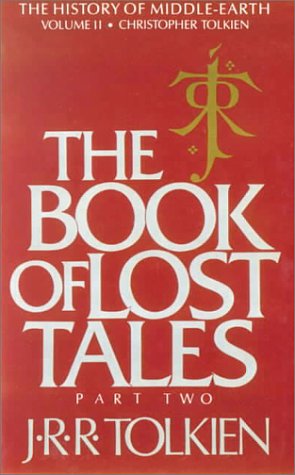 ISBN is
9780833501172 /
0833501178
Publisher:Bt Bound, 1999
Language:English
Prices INCLUDE standard shipping to United States
Shipping prices may be approximate. Please verify cost before checkout.
About the book:
The Book of Lost Tales was the first major work of imagination by J.R.R. Tolkien, begun in 1916-17 when he was twenty-five years old and left incomplete several years later. It stands at the beginning of the entire conception of Middle-earth and Valinor, for these tales were the first form of the myths and legends that came to be called The Silmarillion. Embedded in English legend, they are set in the narrative frame of a great westward voyage over the Ocean by a mariner named Eriol (or AElfwine) to Tol Eressea, the Lonely Isle, where elves dwelt; from him they learned their true history, the Lost Tales of Elfinesse. In these Tales are found the earliest accounts and original ideas of Gods and Elves, Dwarves, Balrogs, and Orcs; of the Silmarils and the Two Trees of Valinor; of Nargothrond and Gondolin; of the geography and cosmology of Middle-earth. Volume Two contains the Tale of Tinuviel, the story of Turambar, The Fall of Gondolin, and the story of the Necklace of the Dwarves. Each tale is followed by a short essay by Christopher Tolkien, the author's son and literary executor.
Search under way...
Search complete.
Click on the price to find out more about a book.
1.

Hawthorne Academic


via



United States

Hardcover, ISBN 0833501178
Publisher: Bt Bound, 1999
Used - Good, Usually ships in 24 hours, Solid used copy with visible wear to covers. May contain underlines or highlights. Ships directly to you with tracking from online's warehouse - fast, secure and FREE WITH online PRIME.. Shipped from Amazon. FREE Two-Day Shipping with Amazon Prime. Eligible for FREE Super Saver Shipping.
2.

Calibris


via



United States

Hardcover, ISBN 0833501178
Publisher: Bt Bound, 1999
Used - Good, Usually ships within 1 - 2 business days, Ships from the USA. Used good condition: moderate wear, may have limited notes and/or highlighting. Please allow 10-15 business days for delivery
3.

Colibris-Usa


via



United States

Hardcover, ISBN 0833501178
Publisher: Bt Bound, 1999
Used - Good, Versandfertig in 1 - 2 Werktagen, Gebraucht-Gut: exemplar in gutem Zustand , durchschnittliche Abnutzung, kann Anmerkungen und/oder beschränkt Textmarkierungen haben. ei gebrauchten Büchern sind CDs, DVDs und weitere Accessories nicht vorhanden. Versand aus den USA, Lieferzeit 10-15 Arbeitstage. Sehr guter Kundenservice.
4.

Rbmbooks


via



United States

Hardcover, ISBN 0833501178
Publisher: Bt Bound, 1999
Used - Good, Usually dispatched within 1-2 business days, Used, good: average wear, reasonable shape, may have limited notes and/or highlighting. Delivered in 10-12 business days from the USA. Money-back guarantee.
5.

Thebookcommunity Es


via



United Kingdom

Hardcover, ISBN 0833501178
Publisher: Bt Bound, 1999
Used - Good, Normalmente se envía en el plazo de 1-2 días laborable, Vendedor orientado hacia el cliente. Usado - buena condición: es posible que tenga desgaste, anotaciones y que el texto sea resaltado. Tiempo estimado de entrega: 10-12 dias laborables.
6.

Walton Bookstore


via



United States

Hardcover, ISBN 0833501178
Publisher: Bt Bound, 1999
Used - Good, Usually dispatched within 1-2 business days, 100% money back guarantee. Dispatched from the USA via First Class Airmail.
7.

Tml Bookstore


via



United States

Hardcover, ISBN 0833501178
Publisher: Bt Bound, 1999
Used - Good, Expédition sous 1 à 2 jours ouvrés, Expedié Par avion depuis les USA. Prévoir l'arriveé en 7 a 15 jours. Satisfait ou remboursé.
8.

Tml Bookstore


via



United States

Hardcover, ISBN 0833501178
Publisher: Bt Bound, 1999
Used - Good, Normalmente se envía en el plazo de 1-2 días laborable, Por favor esperar de 7 a 15 dias para la entrega. Del pedido enviado desde nuestro warehouse en el USA. Reembolso del dinero si no está satisfecho.
9.

Tml Bookstore


via



United States

Hardcover, ISBN 0833501178
Publisher: Bt Bound, 1999
Used - Good, Generalmente spedito in 1-2 giorni lavorativi, Venditore orientato al cliente. Navi da USA. Consegna entro 7 - 14 giorni lavorativi con la posta tradizionale. La ringraziamo per il Suo ordine.
10.

Tml Bookstore


via



United States

Hardcover, ISBN 0833501178
Publisher: Bt Bound, 1999
Used - Good, Versandfertig in 1 - 2 Werktagen, Geld zurueck Garantie. Versand aus Amerika. Erlauben sie bitte 7 bis 15 Tage fuer Lieferung. Danke