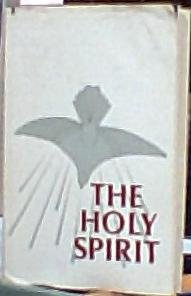 ISBN is
9780816167791 /
0816167796
Publisher:G. K. Hall & Company, 1983
Edition:Hardcover
Language:English
Prices INCLUDE standard shipping to United States
Shipping prices may be approximate. Please verify cost before checkout.
About the book:
Exactly who is the Holy Spirit, and what does He do? In this classic volume, Graham offers a sensitive and comprehensive portrait of this much discussed but often misunderstood member of the Trinity.
Search under way...
Search complete.
Click on the price to find out more about a book.
1.

Your Online Bookstore


via



United States

Hardcover, ISBN 0816167796
Publisher: G. K. Hall & Company, 1983
Used - Good. 0816167796
2.

Your Online Bookstore


via



United States

Hardcover, ISBN 0816167796
Publisher: G. K. Hall & Company, 1983
G. K. Hall & Company. Hardcover. 0816167796 Unbeatable customer service, and we usually ship the same or next day. Over one million satisfied customers! . Good.
3.



United States

Hardcover, ISBN 0816167796
Publisher: G. K. Hall & Company, 1983
used
4.

Leekjd Books, Toys, Etc.


via



United States

Hardcover, ISBN 0816167796
Publisher: G. K. Hall & Company, 1983
Used - Good, Usually ships in 1-2 business days, GOOD condition. No dust jacket. Cover shows moderate shelf wear. Name/note written on inside, front cover. Text is free of markings and binding is tight. Ships SUPER FAST with FREE delivery confirmation. We ship daily!
5.

Your Online Bookstore


via



United States

Hardcover, ISBN 0816167796
Publisher: G. K. Hall & Company, 1983
Used - Good, Usually ships in 1-2 business days, Unbeatable customer service, and we usually ship the same or next day. Over one million satisfied customers!
6.

Goodwill Industries


via



United States

Hardcover, ISBN 0816167796
Publisher: G. K. Hall & Company, 1983
Used - Good. A copy that has been read, but remains in good condition. All pages and cover are intact with limited wear. Former Library book.
7.

gwspokanebooks


via



United States

Hardcover, ISBN 0816167796
Publisher: G. K. Hall & Company, 1983
Good. A copy that has been read, but remains in good condition. All pages and cover are ...
8.

GW Spokane Books


via



United States

Hardcover, ISBN 0816167796
Publisher: G. K. Hall & Company, 1978
Large type / large print.. Used - Good. A copy that has been read, but remains in good condition. All pages and cover are intact with limited wear. Former Library book. Large type / large print.
9.

your_online_bookstore


via



United States

Hardcover, ISBN 0816167796
Publisher: G. K. Hall & Company, 1983
Good. Unbeatable customer service, and we usually ship the same or next day. Over one mi...
10.



United States

Hardcover, ISBN 0816167796
Publisher: G. K. Hall & Company, 1983