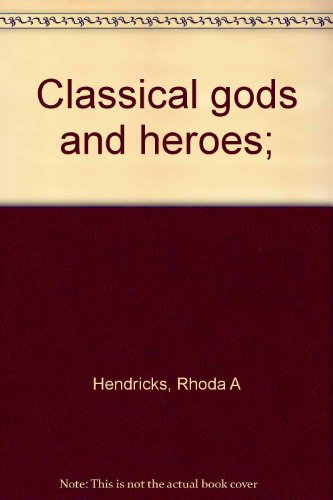 ISBN is
9780804423762 /
0804423768
Publisher:F. Ungar Pub. Co, 1972
Language:English
Prices INCLUDE standard shipping to United States
Shipping prices may be approximate. Please verify cost before checkout.
About the book:
All the wonder, terror and delight of Greek mythology springs forth from the pages of this unique and much-needed anthology. Rhonda Hendricks has not only selected from the works of the ancient authors the best -- and often earliest -- versions of these tales; she has also arranged them so as to give a cumulative view of classical mythology beginning with The Creation and The Birth of Zeus. Of particular interest are: The Ages of Mankind, The Birth of Athena, Oedipus the King, Heracles, Theseus, Jason and Medea, The Judgement of Paris, The Trojan Horse, Pygmalion, and Cupid and Psyche. These texts offer a new perspective on classical mythology and, by so doing, cast a new light on this cornerstone of Western culture.
Search under way...
Search complete.
Click on the price to find out more about a book.
1.

The Abstract


via



United States

Hardcover, ISBN 0804423768
Publisher: Frederick Ungar, New York, 1972
1st Edition. Hardcover. Used - Very Good Very Good in Good jacket. Inscribed by author 322 pages, brief bibliography, extensive glossary, complete text of Sophocles' Oedipus Tyrrannus, 8vo, orange cloth, map end papers. Cover corner bumped, top edge spotted, very good; dust jacket good +, short tear, worn eges. 1st Edition
2.

Abstract Books


via



United States

Hardcover, ISBN 0804423768
Publisher: Frederick Ungar, New York, 1972
Used - Very Good. 322 pages, brief bibliography, extensive glossary, complete text of Sophocles' Oedipus Tyrrannus, 8vo, orange cloth, map end papers. Cover corner bumped, top edge spotted, very good; dust jacket good +, short tear, worn eges.; includes dustjacket (FOLKLORE)
3.

Abstract Books


via



United States

Hardcover, ISBN 0804423768
Publisher: Frederick Ungar, 1972
New York: Frederick Ungar, 1972. 322 pages, brief bibliography, extensive glossary, complete text of Sophocles' Oedipus Tyrrannus, 8vo, orange cloth, map end papers. Cover corner bumped, top edge spotted, very good; dust jacket good +, short tear, worn eges. . Inscribed by author. 1st Edition. Hardcover. Very Good/Good. First edition. Signed.
4.

Free State Books


via



United States

Hardcover, ISBN 0804423768
Publisher: F. Ungar Pub. Co, 1972
Used - Acceptable.
5.

alibris_books_07


via



United States

Hardcover, ISBN 0804423768
Publisher: F. Ungar Pub. Co, 1972
Very Good. Hardcover First Edition. Signed by author. 1st Edition Very Good in Good jacket In...
6.

free_state_books


via



United States

Hardcover, ISBN 0804423768
Publisher: F. Ungar Pub. Co, 1972
Good. Free State Books. Never settle for less.
7.



United States

Hardcover, ISBN 0804423768
Publisher: F. Ungar Pub. Co, 1972

8.



United States

Hardcover, ISBN 0804423768
Publisher: F. Ungar Pub. Co, 1972

9.



United States

Hardcover, ISBN 0804423768
Publisher: F. Ungar Pub. Co, 1972
used
10.

motorcitybooksstore


via



United States

Softcover, ISBN 0804423768
Publisher: F. Ungar Pub. Co, 1972
Acceptable. Classical gods and heroes;