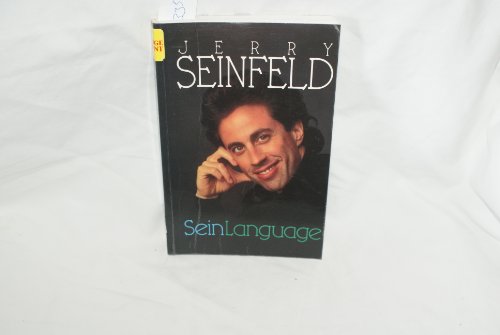 ISBN is
9780792719137 /
0792719131
Prices INCLUDE standard shipping to United States
Shipping prices may be approximate. Please verify cost before checkout.
About the book:
Seinfeld. For more than 33 million viewers, the Emmy Award-winning television show has become a Thursday night ritual. Even though the show has ended, Jerry Seinfeld's distinct brand of humor can still be yours.

In his #1 New York Times bestselling book, SeinLanguage, Jerry Seinfeld has captured on the page his views on topics ranging from Raisinettes to relationships, from childhood to cop shows, and from parents to power suits. This must-have book for all fans--and who isn't a fan?--remains available in both paperback and hardcover.
Search under way...
Search complete.
Click on the price to find out more about a book.
1.

FastMedia


via



United States

Hardcover, ISBN 0792719131
Publisher: Chivers North Amer, 1994
Excellent customer service. Prompt Customer Service. Buy with confidence. Good
2.

Rare Book Cellar





United States

Hardcover, ISBN 0792719131
Publisher: Bantam Books, 1994
Hardcover Very Good in a Very Good dust jacket. ; 1.11 x 9.13 x 6.57 Inches; 188 pages
3.

Rare-Book-Cellar


via



United States

Hardcover, ISBN 0792719131
Publisher: Bantam Books, New York, 1994
First Edition; Early Printing. Hardcover. Used - Very Good. 0792719131. Very Good in a Very Good dust jacket.; 1.11 x 9.13 x 6.57 Inches; 188 pages. First Edition; Early Printing
4.

Rare-Book-Cellar


via



United States

Hardcover, ISBN 0792719131
Publisher: Chivers North Amer, 1994
Collectible - Very Good, Usually ships in 1-2 business days, New York; Bantam Books; 1994; 1st Edition; Early Printing; 1.11 x 9.13 x 6.57 Inches; Hardcover; Very Good in a Very Good dust jacket.; 188 Pages
5.

Rare Book Cellar


via



United States

Hardcover, ISBN 0792719131
Publisher: Bantam Books, 1994
New York: Bantam Books. 1994. First Edition; Early Printing. Hardcover. 0792719131 . Very Good in a Very Good dust jacket. ; 1.11 x 9.13 x 6.57 Inches; 188 pages . First edition.
6.

Rare Book Cellar


via



United States

Hardcover, ISBN 0792719131
Publisher: Bantam Books, New York, 1994
Used. Very Good in a Very Good dust jacket. ; 1.11 x 9.13 x 6.57 Inches; 188 pages
7.

alibris_music


via



United States

Hardcover, ISBN 0792719131
Publisher: Chivers North Amer, 1994
Very Good. Hardcover First Edition. First Edition; Early Printing 0792719131. Very Good in a ...
8.



United States

Hardcover, ISBN 0792719131
Publisher: Chivers North Amer, 1994

9.



United States

Hardcover, ISBN 0792719131
Publisher: Chivers North Amer, 1994
Very Good in a Very Good dust jacket.; 1.11 x 9.13 x 6.57 Inches; 188 pages. 0792719131.
10.

Rarebookcellar


via



United States

Hardcover, ISBN 0792719131
Publisher: Chivers North Amer, 1994
Collectible - Very Good, Usually ships within 1 - 2 business days, New York; Bantam Books; 1994; 1st Edition; Early Printing; 1.11 x 9.13 x 6.57 Inches; Hardcover; Very Good in a Very Good dust jacket.; 188 Pages