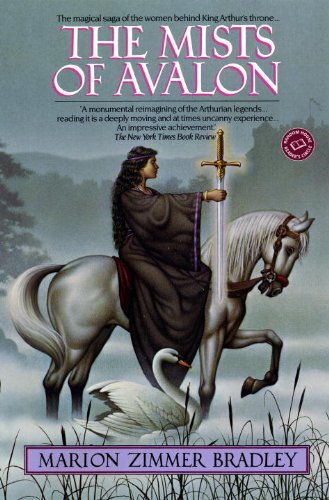 ISBN is
9780785787136 /
0785787135
Publisher:Turtleback Books: A Divisi..., 1987
Language:English
Prices INCLUDE standard shipping to United States
Shipping prices may be approximate. Please verify cost before checkout.
About the book:
A Literary Guild Featured Alternate
Here is the magical legend of King Arthur, vividly retold through the eyes and lives of the women who wielded power from behind the throne. A spellbinding novel, an extraordinary literary achievement, THE MISTS OF AVALON will stay with you for a long time to come....
Search under way...
Search complete.
Click on the price to find out more about a book.
1.

Hippo Books


via



United States

Hardcover, ISBN 0785787135
Publisher: Turtleback Books: A Division of Sanval, 1987
Used - Poor. Acceptable: Possible ex-library copy with the library's markings. May have moderate notes or highlighting. Will no longer have its dust jacket if applicable and accessories may no longer be included.
2.

alibris_movies


via



United States

Hardcover, ISBN 0785787135
Publisher: Turtleback Books: A Division of Sanval, 1987
Good. Hardcover Ex-library. Good Pages may have contain writing, highlighting or notes. ...
3.

Hippo Books


via



United States

Hardcover, ISBN 0785787135
Publisher: Turtleback Books: A Division of Sanval, 1987
Used - Acceptable, Usually ships in 1-2 business days, Used may contain ex-library marking, notes or highlighting, may no longer have it a dust jacket
4.

BOOK SERVICES PLUS


via



United States

Hardcover, ISBN 0785787135
Publisher: A Division of Sanval, 1987
Turtleback Books: A Division of Sanval. School & Library Binding. 0785787135 Ex-library book with usual markings. Clean text. SATISF GNTD + SHIPS W/IN 24 HRS. Sorry, no APO deliveries. Ships in a padded envelope with free tracking. 3117L . Good. 1987-05-01.
5.

Book Services Plus, Inc.


via



United States

Hardcover, ISBN 0785787135
Publisher: A Division of Sanval 1987-05-01, Turtleback Books, 1987
Used - Good. 0785787135 Ex-library book with usual markings. Clean text. SATISF GNTD + SHIPS W/IN 24 HRS. Sorry, no APO deliveries. Ships in a padded envelope with free tracking. 3117L
6.

Fast Shipper


via



United States

Hardcover, ISBN 0785787135
Publisher: Turtleback Books: A Division of Sanval, 1987
Used - Good, Usually ships in 1-2 business days, Ex-library book with usual markings. Clean text. SATISF GNTD + SHIPS W/IN 24 HRS. Sorry, no APO deliveries. Ships in a padded envelope with free tracking. 3117L
7.

-Daily Deals-


via



United States

Hardcover, ISBN 0785787135
Publisher: Turtleback Books: A Division of Sanval, 1987
Used - Good, Usually ships in 1-2 business days, This Book is in Good Condition. Clean Copy With Light Amount of Wear. 100% Guaranteed.
8.

Hippo Books


via



United States

Hardcover, ISBN 0785787135
Publisher: Turtleback Books: A Division of Sanval, 1987
Bound for Schools & Libraries ed.. School & Library Binding. Used - Fair Fair . Good copy for reading, may have heavy page wear with writing textual notes highlighting or be an heavily used ex library copy with library markings, stickers or stamps. Dust jacket or accessories may not be included. Bound for Schools & Libraries ed.
9.

FastMedia


via



United States

Hardcover, ISBN 0785787135
Publisher: Turtleback Books: A Division of Sanval, 1987
Buy with confidence. Excellent Customer Service & Return policy. Fair
10.



United States

Hardcover, ISBN 0785787135
Publisher: Turtleback Books: A Division of Sanval, 1987