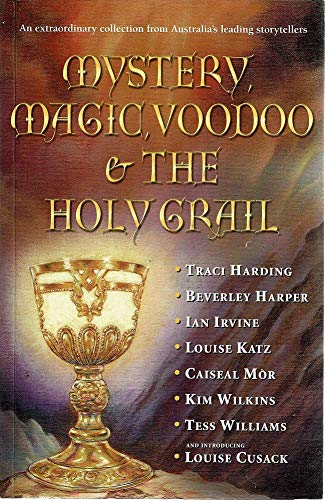 ISBN is
9780732265809 /
0732265800
Publisher:HarperCollins Publishers (..., 2000
Edition:Softcover
Prices INCLUDE standard shipping to United States
Shipping prices may be approximate. Please verify cost before checkout.
About the book:
An outstanding collection of stories from Australia's leading authors in science fiction, fantasy, horror...ghosts, witchcraft, black magic ancient legends, mystery and romance are all here in one superb, page turning package. There are spellbinding tales from Traci Harding Beverley Harper, Ian Irvine, Louise Katz, Caiseal Mor and more.
Search under way...
Search complete.
Click on the price to find out more about a book.
1.

Worldofbooksusa


via



United States

Softcover, ISBN 0732265800
Publisher: HarperCollins Publishers (Australia) Pty Ltd, 2000
Used - Very Good, Usually ships in 1-2 business days, The book has been read, but is in excellent condition. Pages are intact and not marred by notes or highlighting. The spine remains undamaged.
2.

Downtownebookstore2


via



United States

Softcover, ISBN 0732265800
Publisher: HarperCollins Publishers (Australia) Pty Ltd, 2000
Used - Very Good, Usually ships in 1-2 business days, Wraps have light reading creases front and back; binding is tight; text unmarked.
3.

Caerwen Books


via



Australia

Softcover, ISBN 0732265800
Publisher: Voyager, England, 2000
Used - Very Good. Spine uncreased. (FICTION SHORT STORIES)
4.

Caerwen Books


via



Australia

Softcover, ISBN 0732265800
Publisher: Voyager, 2000
England: Voyager, 2000. Book. Very Good. Trade Paperback. Spine uncreased.
5.

Caerwen Books


via



Australia

Softcover, ISBN 0732265800
Publisher: Voyager, 2000
Spine uncreased.. Book. Book Condition: Very Good. Binding: Trade Paperback (FICTION SHORT STORIES)
6.

Adelaide Booksellers


via



Australia

Softcover, ISBN 0732265800
Publisher: Voyager, 2000
Sydney: Voyager. 2000. Very Good condition. A collection from Australia's leading storytellers including Traci Harding, Beverley Harper, Ian Irvine, Louise Katz, Caiseal Mor, Kim Wilkins, Tess Williams and introducing Louise Cusack 382 pages . Reprint. Trade Paperback.
7.

Adelaide Booksellers


via



Australia

Softcover, ISBN 0732265800
Publisher: Voyager, Sydney, 2000
Reprint. Trade Paperback. Used - Very Good. Very Good condition. A collection from Australia's leading storytellers including Traci Harding, Beverley Harper, Ian Irvine, Louise Katz, Caiseal Mor, Kim Wilkins, Tess Williams and introducing Louise Cusack382 pages. Reprint
8.

Adelaide Booksellers (Australia)


via



Australia

Softcover, ISBN 0732265800
Publisher: Voyager, Sydney, 2000
Used. Very Good condition. A collection from Australia's leading storytellers including Traci Harding, Beverley Harper, Ian Irvine, Louise Katz, Caiseal Mor, Kim Wilkins, Tess Williams and introducing Louise Cusack 382 pages (ARTHURIAN LEGEND FANTASY GRAIL LEGENDS HOLY MAGIC VOODOO SCI FI &)
9.

Springwood Book Lounge


via



Australia

Softcover, ISBN 0732265800
Publisher: Voyager (an imprint of HarperCollinsPublishers), Sydney, 2000
Used - Very Good. An extraordinary collections from Australia's leading storytellers: Traci Harding, Beverley Harper, Ian Irvine, Louise Katz, Caiseal Mor, Kim Wilkins, Tess Williams, Louise Cusack (FICTION_SCIENCE FICTION_FANTASY_AUSTRALIAN)
10.

Bong Bong Books


via



Australia

Softcover, ISBN 0732265800
Publisher: Voyager, 2000
Voyager, Australia, 2000. Paperback. Very Good. A collection from Australia's leading storytellers - Traci Harding, Beverley Harper, Ian Irvine, Louise Katz, Caiseal Mor, Kim Wilkins, Tess Williams and Louise Cusack. Size: 4to - over 9 3/4 " - 12" tall. Quantity Available: 1. Shipped Weight: Under 1 kilogram. Category: Fiction; ISBN: 0732265800. ISBN/EAN: 9780732265809. Pictures of this item not already displayed here available upon request. Inventory No: 005908. . 9780732265809