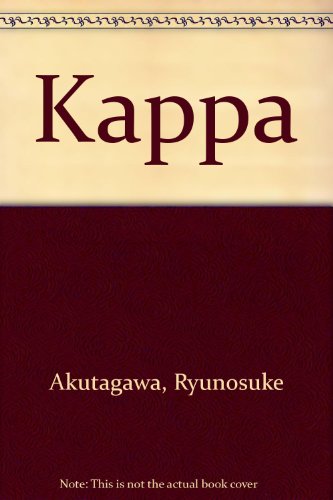 ISBN is
9780720648706 /
072064870X
Kappa
by Akutagawa, Ryunosuke
Publisher:Peter Owen Publishers, 1970
Edition:Hardcover
Language:English
Prices INCLUDE standard shipping to United States
Shipping prices may be approximate. Please verify cost before checkout.
About the book:
The Kappa is a creature from Japanese folklore described as a scaly, child-sized being with a face like a tiger and a sharp, pointed beak. In the hands of Ryunosuke Akutagawa, one man's journey to Kappaland becomes the vehicle for a critique of Japanese life and customs in the tradition of Swift and Kafka. A perfectly formed gem from the pen of one of Japan's most important modern writers, this tale is at once a fable, a comedy, and a brilliant satire.
Search under way...
Search complete.
Click on the price to find out more about a book.
1.

Codexco Limited


via



New Zealand

Hardcover, ISBN 072064870X
Publisher: Peter Owen, London, 1970
Used - Very Good. Previous Owner's Name On Ffep;; includes dustjacket (072064870X KAPPA : A NOVEL RYUNOSUKE AKUTAGAWA)
2.

Diaskaribooks


via



United Kingdom

Hardcover, ISBN 072064870X
Publisher: Peter Owen Publishers, 1970
Used - Very Good, Usually dispatched within 1-2 business days, First UK edition. Bright, clean copy with no markings. Jacket has some surface wear and small closed tear to front. Sent first class/airmail - same day where possible
3.

Tousbouquins


via



United States

Hardcover, ISBN 072064870X
Publisher: Peter Owen Publishers, 1970
Used - Very Good, Expédition sous 1 à 2 jours ouvrés, Expédié par avion depuis Londres; prévoir une livraison entre 8 à 10 jours ouvrables. Satisfait ou remboursé
4.

Colibris-Usa


via



United States

Hardcover, ISBN 072064870X
Publisher: Peter Owen Publishers, 1970
Used - Very Good, Versandfertig in 1 - 2 Werktagen, Versand aus Großbritannien, Lieferzeit 8-10 Arbeitstage. Unser Kundendienst steht Ihnen jederzeit gerne zur Verfügung.
5.

Serendipity Unltd


via



United States

Hardcover, ISBN 072064870X
Publisher: Peter Owen Publishers, 1970
Used - Very Good, Usually ships in 1-2 business days, In stock and ready for immediate shipment. Shipped from the US to arrive in 9-15 business days. Order inquiries handled promptly.
6.

Any Book


via



United States

Hardcover, ISBN 072064870X
Publisher: Peter Owen Publishers, 1970
Used - Very Good, Usually ships in 1-2 business days, Very Good condition! Huge seller with millions of transactions! Satisfaction Guaranteed!
7.

Any Book


via



United States

Hardcover, ISBN 072064870X
Publisher: Peter Owen Publishers, 1970
Used - Like New, Usually ships in 1-2 business days, Like New! Huge seller with millions of transactions! Satisfaction Guaranteed!
8.

Brooke Books


via



United States

Hardcover, ISBN 072064870X
Publisher: Peter Owen Publishers, 1970
Used - Very Good, Usually ships in 1-2 business days
9.

Brooke Books


via



United States

Hardcover, ISBN 072064870X
Publisher: Peter Owen Publishers, 1970
Used - Like New, Usually ships in 1-2 business days
10.

Wolfgangwerfels


via



Germany

Hardcover, ISBN 072064870X
Publisher: Peter Owen Publishers, 1970
Used - Very Good, Normalmente se envía en el plazo de 1-2 días laborable