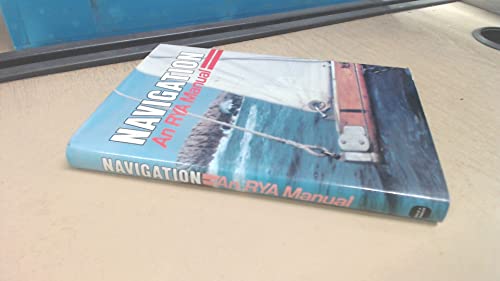 ISBN is
9780715382462 /
0715382462
Publisher:David & Charles, 1981
Edition:Hardcover
Language:English
Prices INCLUDE standard shipping to United States
Shipping prices may be approximate. Please verify cost before checkout.
About the book:
This practical manual is based on the graphical approach which encourages the solution of navigational problems by drawing lines on a chart - the method which is considered best suited to yachts because, unlike the alternative mathematical method, most of the errors that can be made are apparent to anyone with common sense. The book is published primarily in response to a demand from people studying the Yachtmaster Offshore Certificate syllabus, for a manual that eliminates all traces of excessive theory which can be confusing to beginners.
Search under way...
Search complete.
Click on the price to find out more about a book.
1.

Pennsylvania Book Depot


via



United States

Hardcover, ISBN 0715382462
Publisher: David & Charles, 1981
Used - Very Good, Usually ships in 1-2 business days, Former Library book. Lightly read book, still in great shape!No questions return guarantee, great value!
2.

Watermill Books


via



United Kingdom

Hardcover, ISBN 0715382462
Publisher: David & Charles, 1981
Used - Good.
3.

Kennys Bookshop


via



Ireland

Hardcover, ISBN 0715382462
Publisher: David & Charles, 1981
Used - Very Good, Usually ships in 1-2 business days, 1981. Hardcover. Hardcover, photograpghic spine. Ex-Libris, sticker on inside front cover. 157pp. . . . . We ship daily from our warehouse.
4.

Better World Books


via



United States

Softcover, ISBN 0715382462
Publisher: David & Charles, 1981
Very Good. Navigation: A Royal Yachting Association Handbook
5.

Awesomebooksusa


via



United Kingdom

Hardcover, ISBN 0715382462
Publisher: David & Charles, 1981
Used - Good, International shipping, Usually ships in 1-2 business days, This book is in good or better condition. It has no tears to the pages and no pages will be missing from the book. The spine of the book is still in great condition and the front cover is generally unmarked. It has signs of previous use but overall is in really nice, tight condition. Shipping is normally same day from our warehouse. We offer a money back guarantee if you are not satisfied.
6.

Better World Books


via



United States

Hardcover, ISBN 0715382462
Publisher: David & Charles, 1981
Used - Very Good. Former Library book. Great condition for a used book! Minimal wear.
7.

Kennys Bookstore


via



United States

Hardcover, ISBN 0715382462
Publisher: David & Charles PLC, 1981
Used - Very Good. 1981. Hardcover. Hardcover, photograpghic spine. Ex-Libris, sticker on inside front cover. 157pp. . . . . Books ship from the US and Ireland
8.

AwesomeBooks


via



United Kingdom

Hardcover, ISBN 0715382462
Publisher: David & Charles, 1981
Used - Good. Navigation: A Royal Yachting Association Handbook This book is in good or better condition. It has no tears to the pages and no pages will be missing from the book. The spine of the book is still in great condition and the front cover is generally unmarked. It has signs of previous use but overall is in really nice, tight condition. Shipping is normally same day from our UK warehouse. We offer a money back guarantee if you are not satisfied.
9.

Watermillbooksuk


via



United Kingdom

Hardcover, ISBN 0715382462
Publisher: David & Charles, 1981
Used - Good, Usually ships in 1-2 business days
10.



United States

Hardcover, ISBN 0715382462
Publisher: David & Charles, 1981
used