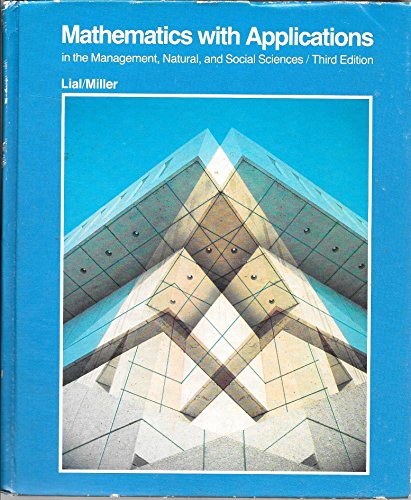 ISBN is
9780673157935 /
0673157938
Publisher:Pearson Scott Foresman, 1983
Edition:Hardcover
Language:English
Prices INCLUDE standard shipping to United States
Shipping prices may be approximate. Please verify cost before checkout.
About the book:
This edition of Mathematics with Applications continues to be an excellent learning tool for applied mathematics students. As always, the text includes the popular margin exercises as well as comprehensive review of algebraic topics, but with this revision comes the fresh insight of a new co-author. Also, at our customers' request, this textbook has additional calculus content, allowing the book to be all that you need and more.
Search under way...
Search complete.
Click on the price to find out more about a book.
1.

Reuse Books LLC


via



United States

Hardcover, ISBN 0673157938
Publisher: Pearson Scott Foresman, 1983
Item in good condition and ready to ship! . Good.
2.

FastMedia


via



United States

Hardcover, ISBN 0673157938
Publisher: Pearson Scott Foresman, 1983
Excellent customer service. Prompt Customer Service. Buy with confidence. Good
3.

Anybookltduk


via



United Kingdom

Hardcover, ISBN 0673157938
Publisher: Pearson Scott Foresman, 1983
Used - Acceptable, Usually ships within 1 - 2 business days, This is an ex-library book and may have the usual library/used-book markings inside.This book has hardback covers. In fair condition, suitable as a study copy. No dust jacket.
4.

Jamie And Zaba


via



United States

Hardcover, ISBN 0673157938
Publisher: Pearson Scott Foresman, 1983
Used - Like New, Usually ships in 1-2 business days, EXCELLENT CONDITION / SAME DAY SHIPPING / SATISFACTION GUARANTEED!
5.

Julian's Books


via



United States

Hardcover, ISBN 0673157938
Publisher: Pearson Scott Foresman, 1983
Used - Very Good, Usually ships in 1-2 business days, Publisher: SCOTT, FORESMAN AND COMPANY Date of Publication: 1983 Binding: hardcover Edition: Third Edition Condition: VG Description: Small 4to; 690 pages
6.

Anybookltduk


via



United Kingdom

Hardcover, ISBN 0673157938
Publisher: Pearson Scott Foresman, 1983
Used - Acceptable, Usually ships in 1-2 business days, This is an ex-library book and may have the usual library/used-book markings inside.This book has hardback covers. In fair condition, suitable as a study copy. No dust jacket.
7.

Anybook Ltd.


via



United Kingdom

Hardcover, ISBN 0673157938
Publisher: Pearson Scott Foresman, 1983
Used - Acceptable. This is an ex-library book and may have the usual library/used-book markings inside.This book has hardback covers. In fair condition, suitable as a study copy. No dust jacket. , 1350grams, ISBN:0673157938 (MATHEMATICS)
8.

Anybookltd


via



United Kingdom

Hardcover, ISBN 0673157938
Publisher: Pearson Scott Foresman, 1983
Used - Acceptable, International shipping, Expédition sous 1 à 2 jours ouvrés, C'est un livre usagé de bibliothèque. Expedié le jour meme depuis l'angleterre. En moyenne, 5-8 jours pour la livraison. This is an ex-library book and may have the usual library/used-book markings inside.This book has hardback covers. In fair condition, suitable as a study copy. No dust jacket.
9.

Anybookltd


via



United Kingdom

Hardcover, ISBN 0673157938
Publisher: Pearson Scott Foresman, 1983
Used - Acceptable, Usually dispatched within 1-2 business days, This is an ex-library book and may have the usual library/used-book markings inside.This book has hardback covers. In fair condition, suitable as a study copy. No dust jacket.
10.

Anybook Ltd


via



United Kingdom

Hardcover, ISBN 0673157938
Publisher: Pearson Scott Foresman, 1983
Pearson Scott Foresman, 1983. This is an ex-library book and may have the usual library/used-book markings inside.This book has hardback covers. In fair condition, suitable as a study copy. No dust jacket. , 1350grams, ISBN:0673157938