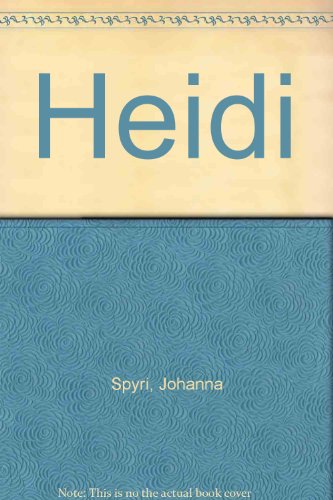 ISBN is
9780671456528 /
0671456520
Publisher:Julian Messner, 1983
Language:English
Prices INCLUDE standard shipping to United States
Shipping prices may be approximate. Please verify cost before checkout.
About the book:
A picture book version of the popular classic is told from the perspective of the irrepressible Heidi herself and is complemented by lavish illustrations of Heidi's grandfather, Peter the goatherd, sickly Klara, and the alpine landscape.
Search under way...
Search complete.
Click on the price to find out more about a book.
1.

Dbynums72


via



United States

Hardcover, ISBN 0671456520
Publisher: Julian Messner, 1983
Used - Very Good, Usually ships in 1-2 business days, Julian Messner edition, illust by Troy Howell, Large print, full color illust. x-library hc, library binding, pages clean, binding tight, no writing in book, normal library markings
2.

Rbmbooks


via



United States

Hardcover, ISBN 0671456520
Publisher: Julian Messner, 1983
Used - Very Good, Usually dispatched within 1-2 business days, Ships from USA. Delivered in 10-12 business days. Money back guarantee!
3.

Calibris


via



United States

Hardcover, ISBN 0671456520
Publisher: Julian Messner, 1983
Used - Very Good, Usually ships within 1 - 2 business days, Ships from the USA. Please allow 10-15 business days for delivery. Excellent customer service!
4.

Tousbouquins


via



United States

Hardcover, ISBN 0671456520
Publisher: Julian Messner, 1983
Used - Very Good, Expédition sous 1 à 2 jours ouvrés, Expédié par avion depuis les USA; prévoir une livraison entre 10 à 15 jours ouvrables. Satisfait ou remboursé
5.

Colibris-Usa


via



United States

Hardcover, ISBN 0671456520
Publisher: Julian Messner, 1983
Used - Very Good, Versandfertig in 1 - 2 Werktagen, Versand aus den USA, Lieferzeit 10-15 Arbeitstage. Sehr guter Kundenservice.
6.

Tml Bookstore


via



United States

Hardcover, ISBN 0671456520
Publisher: Julian Messner, 1983
Used - Good, Expédition sous 1 à 2 jours ouvrés, Expedié Par avion depuis les USA. Prévoir l'arriveé en 7 a 15 jours. Satisfait ou remboursé.
7.

Tml Bookstore


via



United States

Hardcover, ISBN 0671456520
Publisher: Julian Messner, 1983
Used - Good, Normalmente se envía en el plazo de 1-2 días laborable, Por favor esperar de 7 a 15 dias para la entrega. Del pedido enviado desde nuestro warehouse en el USA. Reembolso del dinero si no está satisfecho.
8.

Tml Bookstore


via



United States

Hardcover, ISBN 0671456520
Publisher: Julian Messner, 1983
Used - Good, Generalmente spedito in 1-2 giorni lavorativi, Venditore orientato al cliente. Navi da USA. Consegna entro 7 - 14 giorni lavorativi con la posta tradizionale. La ringraziamo per il Suo ordine.
9.

Tml Bookstore


via



United States

Hardcover, ISBN 0671456520
Publisher: Julian Messner, 1983
Used - Good, Versandfertig in 1 - 2 Werktagen, Geld zurueck Garantie. Versand aus Amerika. Erlauben sie bitte 7 bis 15 Tage fuer Lieferung. Danke