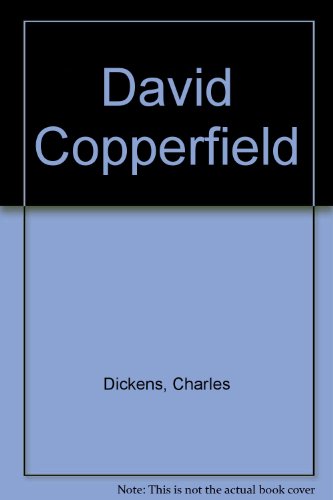 ISBN is
9780671451066 /
0671451065
Publisher:Pocket Books (Mm), 1983
Edition:Softcover
Language:English
Prices INCLUDE standard shipping to United States
Shipping prices may be approximate. Please verify cost before checkout.
About the book:
Tor Classics are affordably-priced editions designed to attract the young reader. Original dynamic cover art enthusiastically represents the excitement of each story. Appropriate "reader friendly" type sizes have been chosen for each title--offering clear, accurate, and readable text. All editions are complete and unabridged, and feature Introductions and Afterwords.

Growing up is never easy--especially if your name happens to be David Copperfield. Orphaned as an infant, David must suffer the privation and cruelties of his evil stepfather, Mr. Murdstone--who packs David away to a workhouse at the age of ten! a trusting but vulnerable boy and practically alone in the world, David finds himself time after time at the mercy of a rogue's gallery of characters: the dashing but deceitful Steerforth, the detestable clerk Uriah Heep, and, last but not least, the beautiful but ditzy Dora. With friends like these it's a miracle that David grows up at all!
Search under way...
Search complete.
Compare book prices from over 100,000 booksellers. Click on the price to find out more about a book.
1.

Books Squared


via



United States

Softcover, ISBN 0671451065
Publisher: Pocket Books (Mm), 1983
Used - Acceptable, Usually ships in 1-2 business days, Book selection as BIG as Texas.
2.

Motor City Books


via



United States

Softcover, ISBN 0671451065
Publisher: Pocket Books (Mm), 1983
Used - Good, Usually ships in 1-2 business days, Minimal damage to cover and binding. Pages show light use. With pride from Motor City. All books guaranteed. Best Service, Best Prices.
3.

Books Squared


via



United States

Softcover, ISBN 0671451065
Publisher: Pocket Books (Mm), 1983
Used - Acceptable, Usually ships within 1 - 2 business days, Ships from the USA. Please allow 14-21 business days for delivery. Book Selection as BIG as Texas.
4.

Motor-City-Books


via



United States

Softcover, ISBN 0671451065
Publisher: Pocket Books (Mm), 1983
Used - Good, Usually ships within 1 - 2 business days, Our books ship from the USA and delivery time is 2 to 3 weeks. Minimal damage to cover and binding. Pages show light use. With pride from Motor City. All books guaranteed.
5.

FastMedia


via



United States

Softcover, ISBN 0671451065
Publisher: Pocket Books (Mm), 1983
Excellent customer service. Prompt Customer Service. Buy with confidence. Very Good
6.

Books Squared Usa


via



United States

Softcover, ISBN 0671451065
Publisher: Pocket Books (Mm), 1983
Used - Acceptable, Expédition sous 1 à 2 jours ouvrés, Ships from USA. Please allow 2 to 3 weeks for delivery. Book selection as BIG as Texas.
7.

Motor City Books Usa


via



United States

Softcover, ISBN 0671451065
Publisher: Pocket Books (Mm), 1983
Used - Good, Expédition sous 1 à 2 jours ouvrés, Ships from USA. Please allow 2 to 3 weeks for delivery. Minimal damage to cover and binding. Pages show light use. With pride from the Motor City.
8.

Quality Bargain Mall


via



United States

Softcover, ISBN 0671451065
Publisher: Pocket Books (Mm), 1983
Used - Good, Usually ships in 24 hours, Eligible for online's FREE Super Saver/Prime Shipping, 24/7 Customer Service, and package tracking. 100% Satisfaction Guarantee. Cover has some rubbing.. Shipped from Amazon. FREE Two-Day Shipping with Amazon Prime. Eligible for FREE Super Saver Shipping.
9.

Fairlane Books


via



United States

Softcover, ISBN 0671451065
Publisher: Pocket Books (Mm), 1983
Paperback. Used - Very Good. Very Good+, Softcover, Gently read and kept, Satisfaction Guaranteed, International Shipping, Photos upon request.
10.



United States

Softcover, ISBN 0671451065
Publisher: Pocket Books (Mm), 1983