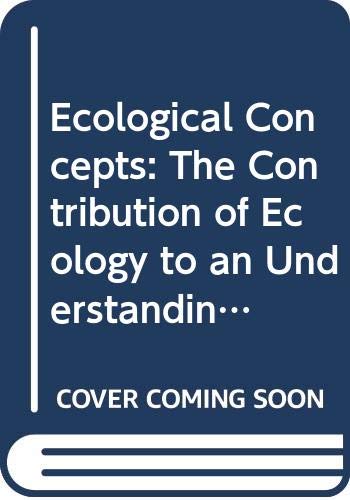 ISBN is
9780632025695 /
0632025697
Publisher:Blackwell Science Inc, 1990
Edition:Hardcover
Language:English
Prices INCLUDE standard shipping to United States
Shipping prices may be approximate. Please verify cost before checkout.
About the book:
This book contains the proceedings of the symposium organized to celebrate the 75th anniversary of the founding of the British Ecological Society, and its purpose is to try and assess the contribution which ecology has made to our understanding of the natural world during the 100 years or so of the discipline's formal existence. An unusual feature of the book, described in the first chapter is that the opinions of the whole membership of the society were sought through a postal questionnaire, the results of which are summarized, and to some extent related to the background of the member who replied. The major part of the book consists of 10 essays, each by eminent authorities, on the principles identified by the members, and to that extent can be regarded as a text dealing with 10 of the most important ideas in the subject. Indeed in some senses it can be regarded as a syllabus for those wishing to be acquainted with key ideas in ecology.
Search under way...
Search complete.
Click on the price to find out more about a book.
1.

Richard Booth's Bookshop


via



United Kingdom

Hardcover, ISBN 0632025697
Publisher: Blackwell Science Inc, 1990
Used - Very Good, Usually ships in 1-2 business days, Shipped from UK, please allow 10 to 21 business days for arrival. Very Good, 385 pages. Previous owner's name written neatly in ink on front endpaper otherwise very good bright copy.
2.

Tml Bookstore


via



United States

Hardcover, ISBN 0632025697
Publisher: Blackwell Science Ltd, 1989
Used - Good, Expédition sous 1 à 2 jours ouvrés, Expedié Par avion depuis les USA. Prévoir l'arriveé en 7 a 15 jours. Satisfait ou remboursé.
3.

Tml Bookstore


via



United States

Hardcover, ISBN 0632025697
Publisher: Blackwell Science Ltd, 1989
Used - Good, Normalmente se envía en el plazo de 1-2 días laborable, Por favor esperar de 7 a 15 dias para la entrega. Del pedido enviado desde nuestro warehouse en el USA. Reembolso del dinero si no está satisfecho.
4.

Tml Bookstore


via



United States

Hardcover, ISBN 0632025697
Publisher: Blackwell Science Inc, 1989
Used - Good, Generalmente spedito in 1-2 giorni lavorativi, Venditore orientato al cliente. Navi da USA. Consegna entro 7 - 14 giorni lavorativi con la posta tradizionale. La ringraziamo per il Suo ordine.
5.

Tml Bookstore


via



United States

Hardcover, ISBN 0632025697
Publisher: Blackwell Science Ltd, 1990
Used - Good, Versandfertig in 1 - 2 Werktagen, Geld zurueck Garantie. Versand aus Amerika. Erlauben sie bitte 7 bis 15 Tage fuer Lieferung. Danke