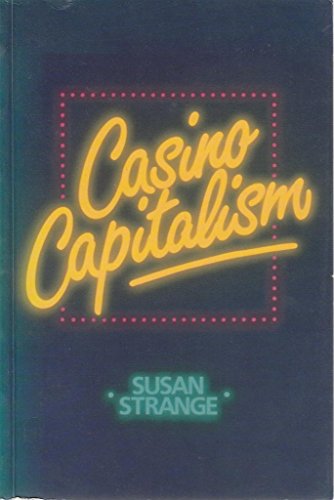 ISBN is
9780631150275 /
0631150277
Publisher:Blackwell Pub, 1983
Edition:Softcover
Language:English
Prices INCLUDE standard shipping to United States
Shipping prices may be approximate. Please verify cost before checkout.
About the book:
The games being played, day and night, in the unsleeping capital markets of the world resemble nothing so much as one vast global casino. The prices of currencies and commodities of corporate stocks and other financial assets fluctuate wildly, not in response to real market forces but a the whim of professional gamblers. The consequences for us all, if the system should collapse, would be complete disaster. This provocative book explores the unstable and largely uncontrolled system which is deliberately perpetuated.
Search under way...
Search complete.
Click on the price to find out more about a book.
1.

Sunrise Books Uk Ltd


via



United Kingdom

Softcover, ISBN 0631150277
Publisher: Blackwell Pub, 1983
Used - Acceptable, Usually ships in 1-2 business days, We aim to deliver to the USA within 10 days! (subject to customs delays). Cover image and publication date may vary. Paperback; English language; a fair reading copy. We are an experienced and professional UK bookseller who have been sending books worldwide for over 5 years.
2.

Betterworldbooksuk


via



United Kingdom

Softcover, ISBN 0631150277
Publisher: Blackwell Pub, 1983
Used - Good, Usually ships in 1-2 business days, Ships from the UK. Former Library book. Shows some signs of wear, and may have some markings on the inside. 100% Money Back Guarantee. Your purchase also supports literacy charities.
3.

Sunrise Books Ltd Uk


via



United Kingdom

Softcover, ISBN 0631150277
Publisher: Blackwell Pub, 1986
Used - Acceptable, Usually ships within 1 - 2 business days, We aim to deliver to the Canada within 10 days! (subject to customs delays). Cover image and publication date may vary. Paperback; English language; a fair reading copy. We are an experienced and professional UK bookseller who have been sending books worldwide for over 5 years.
4.

Bwbuk Ltd


via



United Kingdom

Softcover, ISBN 0631150277
Publisher: Blackwell Pub, 1986
Used - Good, Usually ships within 1 - 2 business days, Ships from the UK. Former Library book. Shows some signs of wear, and may have some markings on the inside. 100% Money Back Guarantee. Your purchase also supports literacy charities.
5.

Sunrise Books Ltd


via



United Kingdom

Softcover, ISBN 0631150277
Publisher: Wiley-Blackwell, 1986
Wiley-Blackwell, 1986. Paperback. Used; Acceptable. Paperback; English language; a fair reading copy. Your book will be securely packed and promptly dispatched from our UK warehouse. All international orders are sent Royal Mail airmail.
6.

sunrisebookshop


via



United Kingdom

Softcover, ISBN 0631150277
Publisher: Blackwell Pub, 1983
Acceptable. Casino Capitalism - STRANGE - Wiley-Blackwell - Acceptable - Paperback
7.

sunrisebookshop


via



United Kingdom

Softcover, ISBN 0631150277
Publisher: Blackwell Pub, 1983
Acceptable. Casino Capitalism - STRANGE - Wiley-Blackwell - Acceptable - Paperback
8.

sunrisebookshop


via



United Kingdom

Softcover, ISBN 0631150277
Publisher: Blackwell Pub, 1983
Acceptable. Casino Capitalism - STRANGE - Wiley-Blackwell - Acceptable - Paperback
9.

Better World Books Ltd


via



United Kingdom

Softcover, ISBN 0631150277
Publisher: Blackwell Pub, 1983
Used - Good. Ships from the UK. Former Library book. Shows some signs of wear, and may have some markings on the inside.
10.

sunrisebookshop


via



United Kingdom

Softcover, ISBN 0631150277
Publisher: Blackwell Pub, 1983
Acceptable. Casino Capitalism - STRANGE - Wiley-Blackwell - Acceptable - Paperback