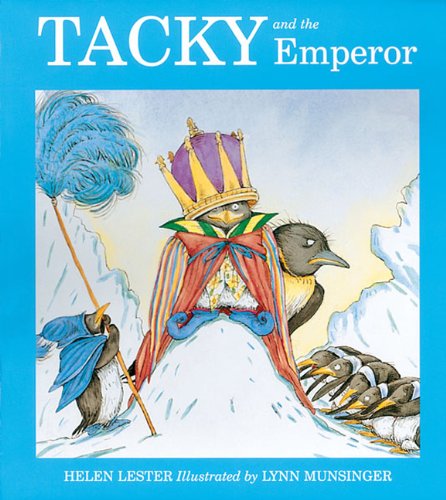 ISBN is
9780613729147 /
0613729145
Publisher:Turtleback, 2002
Language:English
Prices INCLUDE standard shipping to United States
Shipping prices may be approximate. Please verify cost before checkout.
About the book:
FOR USE IN SCHOOLS AND LIBRARIES ONLY. While awaiting a visit from the Emperor, a group of penguins fail to recognize their friend Tacky in the Emperor's clothes.
Search under way...
Search complete.
Click on the price to find out more about a book.
1.

Hippo Books


via



United States

Hardcover, ISBN 0613729145
Publisher: Turtleback, 2002
Used - Good. Good: Gently used may contain ex-library markings, possibly has some minor highlighting, textual notations, and or underlining. Text is still easily readable.
2.

Greatbuy Books Usa


via



United States

Hardcover, ISBN 0613729145
Publisher: Turtleback Books, 2002
Used - Good, Usually ships within 1 - 2 business days, Moderate wear on cover and edges. Minimal highlighting and/or other markings can be present. May be ex-library copy and may not include CD, Accessories and/or Dust Cover. Good readable copy.
3.

Hippo Books


via



United States

Hardcover, ISBN 0613729145
Publisher: Turtleback, 2002
Used - Very Good, Usually ships in 1-2 business days, Very Good: Cover and pages how some wear from reading and storage.
4.

Quality7


via



United States

Hardcover, ISBN 0613729145
Publisher: Turtleback, 2002
Used - Good, Usually ships in 1-2 business days, Good condition
5.

New Chapter Recycling


via



United States

Hardcover, ISBN 0613729145
Publisher: Turtleback, 2002
Used - Very Good, Usually ships in 1-2 business days, Very Good used copy: Some light wear to cover, spine and page edges. Very minimal writing or notations in margins. Text is clean and legible. Possible clean ex-library copy with their stickers and or stamps.
6.

Hippo Books


via



United States

Hardcover, ISBN 0613729145
Publisher: Turtleback, 2002
Turtleback School & Library ed.. School & Library Binding. Used - Good Good . Pages may have contain writing, highlighting or notes. May be an ex library copy with library markings. Dust jacket or accessories may not be included. Turtleback School & Library ed.
7.

owl-books


via



United States

Hardcover, ISBN 0613729145
Publisher: Turtleback, 2002
Good. Buy from the best: 4,000,000 items shipped to delighted customers. We have 1,000,0...
8.

breaktimebooks


via



United States

Hardcover, ISBN 0613729145
Publisher: Turtleback, 2002
Very Good. Very Good used book: Slight wear form usage. Spine shows some wear due to being re...
9.

Welcomebackbooks Usa


via



United States

Hardcover, ISBN 0613729145
Publisher: Turtleback Books, 2002
Used - Acceptable, Expédition sous 1 à 2 jours ouvrés, Book ships from USA, takes 4-14 days for delivery. Used book in average shape. Quick shipping, friendly service. Your satisfaction is guaranteed!
10.



United States

Hardcover, ISBN 0613729145
Publisher: Turtleback, 2002