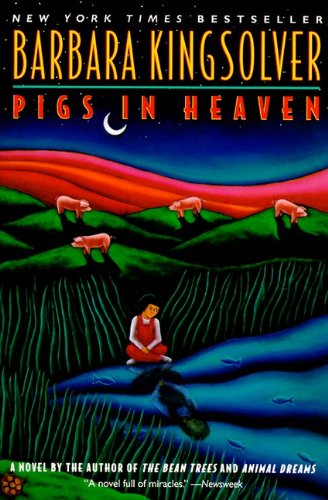 ISBN is
9780613194204 /
0613194209
Publisher:Turtleback Books: A Divisi..., 2003
Edition:UNKNOWN
Language:English
Prices INCLUDE standard shipping to United States
Shipping prices may be approximate. Please verify cost before checkout.
About the book:
Six-year-old Turtle Greer witnesses a freak accident at the Hoover Dam, leading to a man's dramatic rescue. But Turtle's moment of celebrity draws her into a crisis of historical proportions that will envelop not only her and her mother, Taylor, but everyone else who touched their lives in a complex web connecting their future with their past. With this wise, compelling novel, the acclaimed New York Times bestselling author of The Poisonwood Bible, The Bean Trees, and Animal Dreams vividly renders a world of heartbreak and redeeming love as she defines and defies the boundaries of family, and illuminates the many separate truths aboutthe ties that bind us and tear us apart.
Search under way...
Search complete.
Click on the price to find out more about a book.
1.

BOOK SERVICES PLUS


via



United States

Hardcover, ISBN 0613194209
Publisher: A Division of Sanval, 2003
Turtleback Books: A Division of Sanval. School & Library Binding. 0613194209 Ex-library book with usual marking. SATISF GNTD + SHIPS W/IN 24 HRS. Sorry, no APO deliveries. Ships in a padded envelope with free tracking. 1214A . Good. 2003-11-01.
2.

BooksKC


via



United States

Hardcover, ISBN 0613194209
Publisher: Turtleback Books: A Division of, 2003
Used - Acceptable. Library copy with standard markings. Book may or may not have date stamp, lib card env. etc Slight scuffing to cover. All proceeds from purchases from BooksKC go to benefit the Rehabilitation Institute of Kansas City, a nonprofit organization which provides job services, training, and employment to individuals with disabilities.
3.

Bookskc


via



United States

Hardcover, ISBN 0613194209
Publisher: Turtleback Books: A Division of Sanval, 2003
Used - Acceptable, Usually ships in 1-2 business days, Library copy with standard markings. Book may or may not have date stamp, lib card env. etc Slight scuffing to cover. All proceeds from purchases from BOOKsKC go to benefit the Rehabilitation Institute of Kansas City, a nonprofit organization which provides job services, training, and employment to individuals with disabilities.
4.

BooksKC


via



United States

Hardcover, ISBN 0613194209
Publisher: Turtleback Books: A Division of, 2003
Turtleback School & Library ed.. School & Library Binding. Used - Fair Fair . Library copy with standard markings. Book may or may not have date stamp, lib card env. etc Slight scuffing to cover. All proceeds from purchases from BooksKC go to benefit the Rehabilitation Institute of Kansas City, a nonprofit organization which provides job services, training, and employment to individuals with disabilities. Turtleback School & Library ed.
5.

bookskc2013


via



United States

Hardcover, ISBN 0613194209
Publisher: Turtleback Books: A Division of Sanval, 2003
Acceptable. Library copy with standard markings. Book may or may not have date stamp, lib card env. etc Slight scuffing to cover. All proceeds from purchases from BOOKsKC go to benefit the Rehabilitation Institute of Kansas City, a nonprofit organization which provides job services, training, and employment to individuals with disabilities.. Library copy with standard markings. Book may or may not have date stamp, lib card...
6.

Hippo Books


via



United States

Hardcover, ISBN 0613194209
Publisher: Turtleback Books: A Division of Sanval, 2003
Used - Good, Usually ships in 1-2 business days, Gently used may contain ex-library markings, may have some light highlighting and or textual notes
7.

New Chapter Recycling


via



United States

Hardcover, ISBN 0613194209
Publisher: Turtleback Books: A Division of Sanval, 2003
Used - Very Good, Usually ships in 1-2 business days, Very Good used copy: Some light wear to cover, spine and page edges. Very minimal writing or notations in margins. Text is clean and legible. Possible clean ex-library copy with their stickers and or stamps.
8.

Hippo Books


via



United States

Hardcover, ISBN 0613194209
Publisher: Turtleback Books: A Division of Sanval, 2003
Turtleback School & Library ed.. School & Library Binding. Used - Good Good . Pages may have contain writing, highlighting or notes. May be an ex library copy with library markings. Dust jacket or accessories may not be included. Turtleback School & Library ed.
9.

Book Services Plus, Inc.


via



United States

Hardcover, ISBN 0613194209
Publisher: A Division of Sanval 2003-11-01, Turtleback Books, 2003
Used - Good. 0613194209 Ex-library book with usual marking. SATISF GNTD + SHIPS W/IN 24 HRS. Sorry, no APO deliveries. Ships in a padded envelope with free tracking. 1214A
10.

Fast Shipper


via



United States

Hardcover, ISBN 0613194209
Publisher: Turtleback Books: A Division of Sanval, 2003
Used - Good, Usually ships in 1-2 business days, Ex-library book with usual marking. SATISF GNTD + SHIPS W/IN 24 HRS. Sorry, no APO deliveries. Ships in a padded envelope with free tracking. 1214A